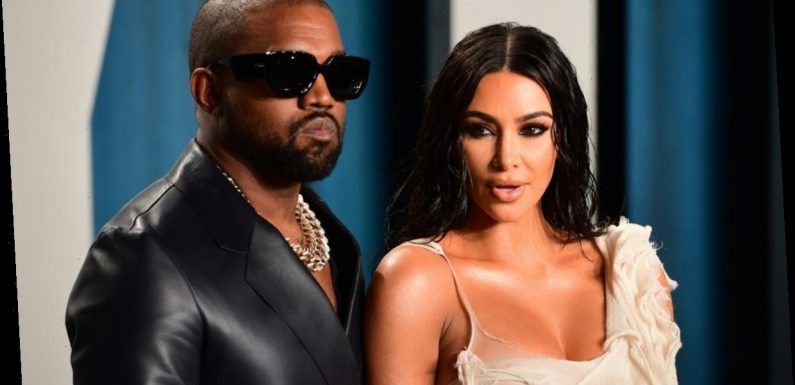 None of the relationships on Keeping Up With The Kardashians seem to be without drama, and Kanye West and Kim Kardashian are no exception.
During their seven-year marriage, they have been at the center of controversy many times. From Kanye's strange behavior to various Kardashian scandals, fans have been on alert for what might be next for the couple. Recently, it seems that they may have reached their breaking point. Insiders claim that they're headed for divorce, and some fans think that a video Kim posted proves it. 
Is there a Kim Kardashian and Kanye West divorce in the works?
Page Six recently dropped a bombshell, claiming that they had heard from inside sources that the couple was headed for divorce court. These insiders said that Kim has hired A-list divorce attorney Laura Wasser, but that the couple was doing their best to keep the news quiet for now.
According to these reports, the two have been living apart for some time, and Kanye spent the holidays at his ranch in Wyoming instead of being with Kim and the family for Christmas. Kim has also been spotted multiple times without her wedding ring.
Although the couple has reportedly considered divorce before, this time seems to be more serious. They are already in negotiations about how they will divide their property.
What led to their breakup? Since neither of them is discussing the situation in public, people can only guess. Many fans suspect that the split is at least partially due to Kanye's erratic behavior.
Kanye West has a history of odd choices
Kanye, who has stated that he has bipolar disorder, is well known for behaving strangely at times. According to US Magazine, he has been raising eyebrows as far back as 2005. He was helping host a relief concert for people affected by Hurricane Katrina, but instead of following the script, he burst out with a statement that then-president Bush didn't care about Black people.
His actions have only ramped up since then. He's repeatedly compared himself to Jesus and called himself a genius. Once he asked people to call him "Martin Louis the King, Jr," and he sometimes tries to communicate with beep sounds, calling words "one of the lowest forms of communication." Fans were taken aback when he declared his support for Donald Trump and his "dragon energy."
Then he announced he was running for president, even though he'd never voted in a presidential election, much less worked in government. On the campaign trail, he revealed that he and Kim nearly decided to abort their first child, North.
Some suspect that Kanye's behavior has been frustrating and distracting as she tries to focus on studying to become a lawyer. She's passionate about prison reform, and she might be tired of balancing that work with his issues. At this point, no one knows for sure what's going on or if the marriage is over, but some fans think they have proof that it is.
Did a video prove he's out of her life?
A recent discussion on Reddit started with a video that was shot at a wrap-up party. It showed table settings, with cookies decorated to look like the guests' faces. Fans couldn't help but notice that someone was missing. 
"No Kanye spot seen in Kim's wrap up party in her backyard," the original poster said. "Guess it really is true."
Others agreed, with one person saying, "I believe this is the real sign the Kanye era is over."
But not everyone saw it the same way. One commenter pointed out that only immediate family members were shown, except for Scott Disick and Corey Gamble, both of whom have been frequently seen on the show. On the other hand, "Kanye has always appeared sporadic in the show and has always made clear he doesn't want to be a part of it and wasn't too happy that Kim did it, but tolerated it."
Perhaps Kanye was excluded from the party and the cookie line-up because he rarely appeared on KUWTK, or maybe it's because he and Kim really are getting a divorce. We won't know for sure until they decide to share with their fans what's going on. Until then, people will be hunting for more clues.
Source: Read Full Article