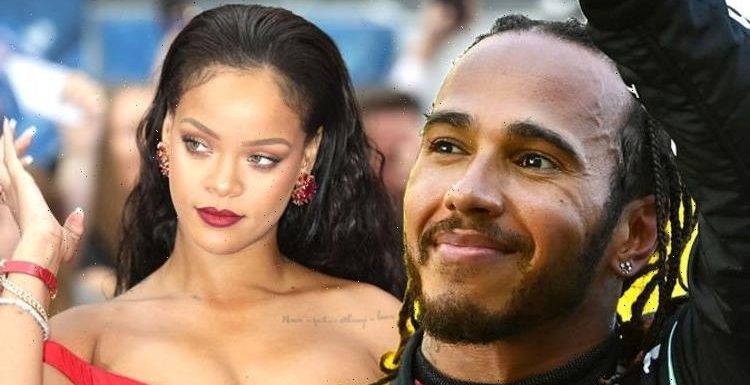 Prince Charles gives speech in Barbados at ceremony
We use your sign-up to provide content in ways you've consented to and to improve our understanding of you. This may include adverts from us and 3rd parties based on our understanding. You can unsubscribe at any time. More info
Formula 1 driver Lewis Hamilton, 36, was quick to congratulate the nation of Barbados, after the country chose to cut ties with the British Empire last month. In a video Lewis shared to his Instagram story, Barbadian singer Rihanna was shown being declared a national hero.
The country of Barbados finally became a Republic, rejecting the crown once and for all, 55 years after their independence.
In a powerful speech given by Barbados' Prime Minister Mia Mottley, pop star Rihanna was also declared a "national hero".
Rihanna, who is one of the most popular and successful musicians in the world, hails from Barbados, and is easily one of the most high-profile people ever to come from the small island nation.
Lewis excitedly shared a video to his story of Rihanna's official ceremony to show how proud he was of her and the country.
He captioned it: "Let's go Barbados!!! Yes!! @badgirlriri," as the video of Rihanna's declaration played.
In the video, the star stood in a stunning golden gown with her hands clasped together as she was honoured.
The Prime Minister said: "On behalf of a grateful nation, but an even prouder people, we therefore present to you the designee for National Hero of Barbados, Ambassador Robyn Rihanna Fenty."
The leader went on to make a playful reference to the lyrics in Rihanna's song Diamonds.
"May you continue to shine like a diamond and bring honour to your nation by your words, by your actions and to do credit wherever you shall go.
"God bless you my dear," she concluded.
The pair then shared a quick hug as they were guided away by soldiers in their ceremonial wear.
Lewis and Rihanna, 33, were reportedly an item several years ago and the pair still seem to have a mutual respect for one another.
Ruth Langsford brands Coleen Nolan a 'former friend' over Eamonn quip [NEWS]
'Disgusted' Brian May rages at the Government with savage video [INSIGHT]
Alex Jones 'shocks' onlookers by bringing baby to event [NEWS]
In 2015, a source claimed to E! News that the pair had grown close, although Rihanna was perhaps not ready to settle down with the sportsman.
"Rihanna and Lewis had a nice little getaway last weekend in Barbados. Rihanna also spent time with her friends and family but Lewis was the only romantic interest on her mind," they said.
"She is not at any point in her life now ready to settle just for anyone, but she is enjoying the time she has with her friends and also focusing on work."
However, after rumours were flying when the two were spotted seemingly flirting up a storm in New York, Lewis made no mention of a romance.
"You know, I've known Ri for a long time," he told E!
"We've been friends for a while. We get to hang out every now and again…"
This year, Forbes named Rihanna the most powerful woman in music alongside Beyoncé and Taylor Swift.
The singer is now also a billionaire, thanks to the success of her Fenty Beauty cosmetics line.
She is currently dating rapper A$AP Rocky, while Lewis is believed to be single.
Source: Read Full Article