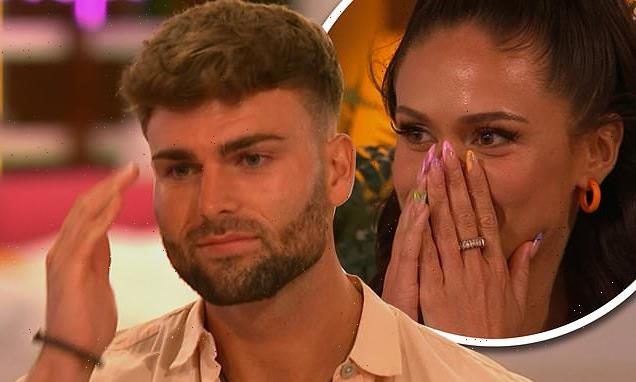 LOVE ISLAND DAY 1 LIVE: First episode ends in a dramatic twist as bombshell Tom plans to 'STEAL' one of the girls from the boys in just 24 hours
Host commentator
The TV and radio presenter, making her villa bow after replacing Laura Whitmore, won unanimous praise from viewers as she arrived in a sweeping gown with a plunging detail that enhanced her cleavage.
Maya, 28, looked like she'd been presenting the show for years as she oversaw the first group coupling, however viewers were unimpressed with her ITV2 paymasters after the channel went into meltdown within seconds of its return.
A series of technical glitches and screen freezes blighted the 90-minute launch, with Love Island returning to South Africa's Cape Town after a three years absence.
Meanwhile, after the first coupling of the season – which aw two steals – bombshell Tom strolled in, much to the shock of the islanders.
Maya then revealed a big twist, that in just 24 hours Tom will get to couple up with any girl of his choice, leaving one boy single.
But who will he choose?
They do look very alike…
Will they go the distance?
WHAT AN ENTRANCE
Well, she did appear TWICE in one episode!
That didn't take long!
We need to start a petition to get Maya in the villa EVERYDAY
A post shared by Love Island (@loveisland)
The boys do NOT look happy about that!
What are we making of the new bombshell?
But who will it be?
We are not worthy!
Maya #LoveIsland pic.twitter.com/WJcG84rP7p
We can't wait to see how he gets on…
He was like a kid in a sweet shop!
But the question is, will they STAY together?
Sort it out ITV2!
The islanders are already eyeing up other people outside their couples – hold tight for the drama!
It's Maya's time to shine now!
Could this pairing be magic?!
Man called Ron loves Harry Potter. That's just good wholesome banter #LoveIsland pic.twitter.com/SKZNldcTm4
Maya was looking unreal tonight
They are pretty good eyebrows TBF
And there were some steals in the process!
This is the most awkward coupling I've ever saw #LoveIsland
Talk about Karma!
She looks unreal!
And Anna-May says she's 'DISGUSTED!'
the little thief #LoveIsland pic.twitter.com/9fIGaIO7Vq
Do you think they are a good match?
Things are heating up…
What do we make of this pairing?
She's a stunner!
The boys are in for a treat!
When all the boys step forward straight away! #LoveIsland #loveislove #LoveIslandUK pic.twitter.com/OhW3vP10Ny
Maya's slow mo is perfection!
What are your first thoughts of the lads?
How hot does Maya look?! What are you making of the islanders promos?
here we go #LoveIsland pic.twitter.com/e1PtKwmXyX
The islanders are ready, are YOU?
It's almost time!
#LoveIsland time pic.twitter.com/WBCTy9D9QP
Fans cannot wait for the new series to start!
The way I'm waiting for #LoveIsland to start is actually crazy! I need help! 😂
The host, the contestants, the villa… here's the 411 for the 2023 winter series
It's almost time guys, not long to go now…
Waiting for #LoveIsland tonight pic.twitter.com/P1bM92hbEy
Anyone else?
cheers to giving the next 2 months of my life away to people i have never met in my life #LoveIsland pic.twitter.com/TNZoKWp3iE
It's looking snazzy!
A post shared by Love Island (@loveisland)
Same tbh
me at 9pm on the dot tonight because love island starts today #LoveIsland pic.twitter.com/JbaliFhlrd
The star looks red hot as she prepares to make her debut as Love Island host
Hello and welcome and to the Love Island Live blog! MailOnline is here to keep you updated with all the latest gossip and tweets from fans.
Source: Read Full Article