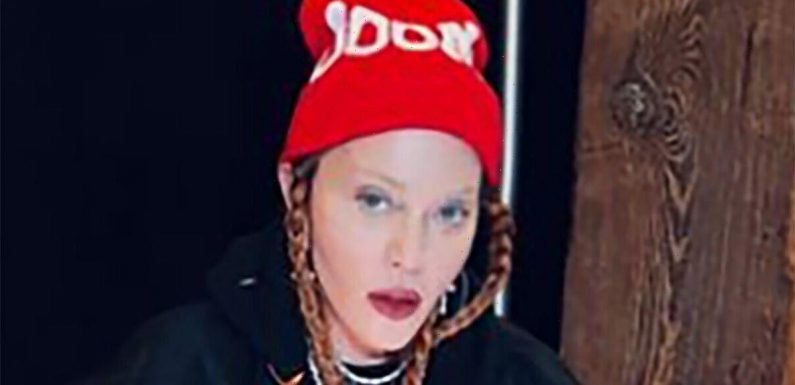 Madonna flaunted her youthful complexion in a series of new photos
Madonna took to Instagram to upload a series of pictures with her children
Madonna, 64, flaunted her youthful complexion as she took to Instagram to upload a series of pictures with her children.
The Queen of Pop, who has been rehearsing for her upcoming 40th anniversary world tour, recently appeared to admit to having had cosmetic surgery.
In the wholesome snaps, Madonna could be seen sharing a hug with her daughter Estere,10, who has an identical twin named Stella.
One of the singer's sons, David Banda, 17, stood in the background with an arm around his mum and sister.
Madonna's 17-year-old daughter Mercy James also appeared in the posts, as she sat at the piano in the rehearsal studio.
The pop superstar recently appeared to confess she had undergone plastic surgery as she captioned one of her Instagram posts: "Look how cute I am now that swelling from surgery has gone down. Lol."
Madonna has been rehearsing for her upcoming 40th anniversary world tour
Madonna recently appeared to admit to having had cosmetic surgery
Madonna could be seen sharing a hug with her daughter Estere in the pictures
Madonna's daughter Estere has an identical twin named Stella
Madonna David Banda, 17, also appeared in the snaps
Madonna's son stood in the background with an arm around his mum and sister
Madonna's 17-year-old daughter Mercy James was also featured in the posts
Madonna's daughter sat at the piano in the rehearsal studio while her mum rehearsed
Madonna recently appeared to confess she had undergone plastic surgery
Madonna captioned one of her Instagram posts: "Look how cute I am now that swelling from surgery has gone down. Lol."
Source: Read Full Article