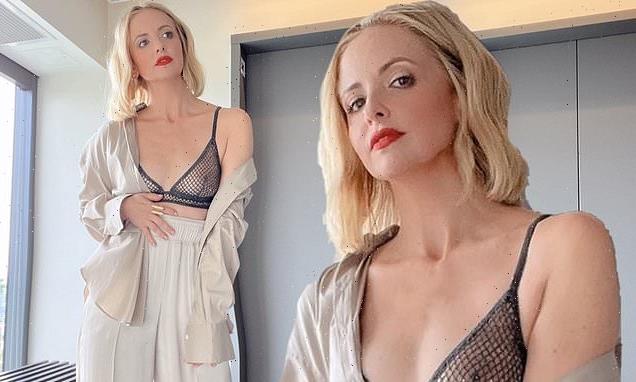 Stripping for ratings! Sarah Michelle Gellar poses in a sheer black netted bra as she asks fans to watch her show Wolf Pack: 'Do not miss!'
Sarah Michelle Gellar nearly bared it all in a sheer black mesh bra that offered viewers plenty.
The Buffy the Vampire Slayer alum, 45, paired the bra with a pair of wide-legged cream-colored pants and a matching jacket that she wore falling off her shoulders.
The mom of two wore her shoulder-length bob cut parted in the middle and loose. She had bright red lipstick applied to her mouth. 
She captioned the snap, 'Now that I have your attention…[email protected] episode 5 is now available. DO NOT miss the last five minutes. Trust me.'
The Cruel Intentions actress – who recently reminisced about her cameo on Sex and the City – stars in the Paramount+ drama.
Meshy business: Sarah Michelle Gellar, 45, wore a black mesh bra as she promoted the latest episode of her Paramount+ show Wolf Pack
Suited up: She paired the underpinning with wide-legged cream-colored pants and jacket
Wolf Pack is based on the series of books by the same name by Edo Van Belkom.
It follows a teenage boy and girl whose lives are changed when a wildfire in California awakens a supernatural creature that attacks people trapped in a traffic jam on the freeway.
The teens are wounded in the attack and are drawn to each other and to two other teenagers who were adopted 16 years earlier after another wildfire. 
As the full moon rises, all four teens realize they are bonded together by the bite from a werewolf.
On Wednesday, the Scooby Doo star shared a series of snaps of herself in a car on the way home from a party.
'I went to a party. I saw my friends. I danced (a lot) I forgot to take pics. So here's me… sweaty and tired… on the drive home,' she captioned the post. 
In the photos, the I Know What You Did Last Summer actress wore a strapless white dress with white trim. 
The dress accentuated her sharp collarbones and slight frame. Her makeup was slightly smudged at the end of her evening out.
Her show: When a raging wildfire descends on California, a mysterious creature hiding out in the forest is awoken and a group of teenagers find their lives changed forever
And when she's not shooting Wolf Pack, the Ringer actress is reminiscing about her cameo on Sex and the City back in 2001. 
In fact, Gellar recently admitted she's love to reprise the small role she played on the show 22 years ago.
 She played Debbie, a Junior Development Executive based in Los Angeles who was eager to turn Carrie Bradshaw's New York Star column into a movie.
During an interview with Entertainment Tonight published on Thursday, the mother of two expressed that, 'I feel like the D [development] girl, which is what she was then, is probably running a studio,' and added, 'maybe she has a place to come back.'
The role was specifically written for her on the 13th episode of season three. Matthew McConaughey also made a brief appearance in the episode. She opened up about how that all came about.
Blonde beauty: The Buffy the Vampire Slayer alum has been married to actor Freddie Prinze, Jr. since 2002
'This is a great story. I was desperate to be on it and [creator] Darren [Starr] had written me a couple roles and I couldn't get out of Buffy to film and I was really upset,' she recalled.
'And he said to me, "We're coming to L.A. I'll make it work," so he wrote this role,' the actress added, referencing to the character of Debbie. She explained that the night she had filmed the SATC scene, she had actually also 'worked all day' on set of Buffy.
'I had two hours in between. I had a 10 p.m. call time for Sex And The City and I said, "Are you gonna get to me?" because I had been working since 5 in the morning.'
The talented star expressed that Starr had told her, '"We're gonna get to you, we're gonna get to you." I got there at 10 p.m. They got to me at 5 a.m. or 4:30 a.m. the next day so I was delirious doing that scene, but I was also deliriously excited.'
After talking about the role and pitching her possible return, she humorously gave a shoutout to the show runner of the spinoff. 'Michael Patrick King, are you listening?'
During the short scene, Sarah's character gushed to Carrie, played by Sarah Jessica Parker, that she wanted to turn her newspaper columns into a Hollywood blockbuster, and that Matthew McConaughey was interested in the part of Mr. Big.
Party girl: She posted pics to Instagram on Wednesday on her way home from a party where she danced and saw lots of friends
Source: Read Full Article