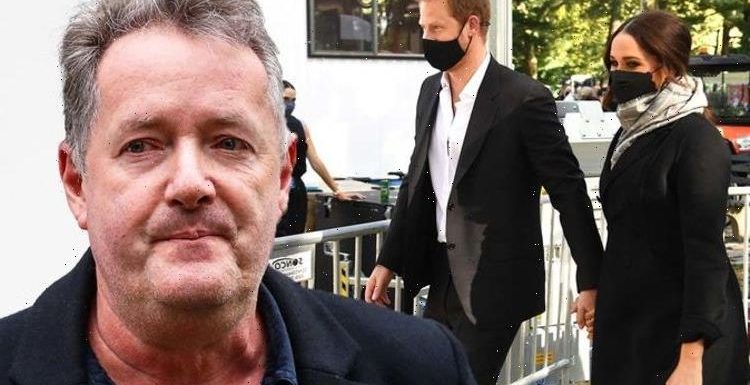 Meghan Markle and Harry slammed by host for New York trip
We use your sign-up to provide content in ways you've consented to and to improve our understanding of you. This may include adverts from us and 3rd parties based on our understanding. You can unsubscribe at any time. More info
Piers Morgan, 56, did not hold back in a new tirade of scathing criticism of the Duchess of Sussex. The former Good Morning Britain presenter said "nothing screams defeating poverty more" than Meghan's "unflattering" designer fashion choices.
Piers wrote: "Well, I'm sure we can all agree that nothing screams defeating poverty more than Meghan Markle sporting $100,000 worth of designer clothes – though whoever paid her to wear that unflattering bulky winter wardrobe on warm sunny days probably deserves a refund – and lavishly expensive jewellery as she trotted around impoverished parts of Harlem where she read schoolkids extracts from her own book, The Bench.
"We were told this cringe-making display of self-aggrandizement was to 'promote early literacy' but as reviewers of this god-awful pile of bilge have attested, The Bench is to literacy what Madonna is to growing old gracefully.
"It takes a special kind of brazen shamelessness to use children who can barely read to fire up your book's flagging sales."
The journalist stressed that his "biggest concern" was the "damage" the couple were doing to the Royal Family and Monarchy by trying to create "an American-based renegade royal entity".
"One that's not based on the kind of quiet, admirable, stoic, modest, duty-led majesty of the Queen, but on a cheap, tacky, noisy, toxic, Kardashian-style 24/7 invasion of our senses that's specifically intended to fleece royal status for maximum personal commercial benefit," Piers continued in his Daily Mail column.
"Meghan Markle's incendiary but still-unproven claims of racism and callousness against the royals during her Oprah whineathon back in March have already caused very real harm to the Monarchy, especially in parts of the Commonwealth."
But Piers was not the only person to hit out at the couple.
Royal expert Natalie Oliveri told Today AU how some people claimed Harry and Meghan were carrying out roles that resemble the ones senior royals undertake, despite quitting their jobs in the firm.
She pointed out the Sussexes' ability to meet with key authorities, including the New York Mayor.
Ms Oliveri said: "Some people have even been labelling this tour as an embarrassment because of those responsibilities Harry and Meghan appeared to ditch when giving up their place as senior royals.
"Now it looks like they are going back to royal working duties.
"This is because of who Harry and Meghan met and where they visited during their visit to New York, that really has people talking.
"They started their visit to the One World Trade Centre and the 9/11 memorial.
"Here they met with the New York Mayor and then went to the United Nations and after that they visited a school in Harlem.
"Meghan was reading chapters from her book The Bench and Harry sitting in the front row.
"The culmination of their visit to New York was attending the Global Citizen live concert in Central Park. As you mentioned they called for equal access to the coronavirus vaccine."
Royal Expert Angela Levin echoed the accusations, labelling the couple's appearances a "pseudo royal trip".
While speaking on TalkRadio, Ms Levin claimed: "I think it is both funny and kind of shocking.
"This is because Meghan and Harry are doing a sort of pseudo royal trip.
"The list of what they are going to do is the same as I have received over the years when accompanying royals on an engagement."
Source: Read Full Article