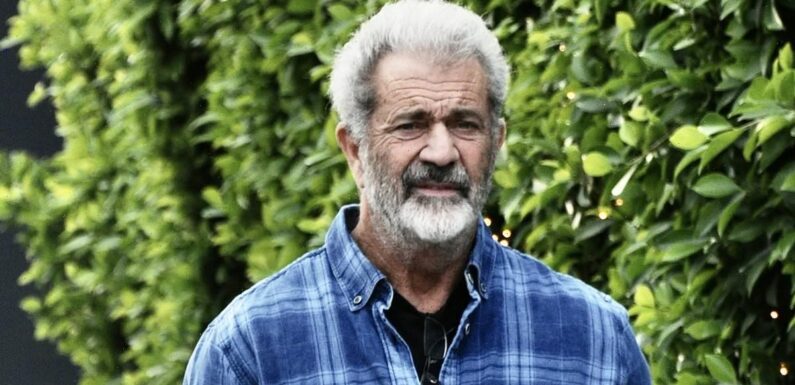 Mel Gibson, 67, goes ultra casual in plaid shirt and RUBBER SLIDES as he takes partner Rosalind Ross, 33, and their son Lars, six, to very fancy dinner
Mel Gibson was spotted out enjoying a family outing in Santa Monica with his girlfriend Rosalind Ross and their son Lars on Thursday evening.
The 67-year-old filmmaker — whose film The Patriot was projected on a recent flight — was very dressed down as he wore a plaid blue shirt with black pants and black rubber slides.
The trio dined at the storied and very upscale Italian restaurant Giorgio Baldi, a celebrity haunt loved by stars like Rihanna and Timothee Chalamet.
Rosalind, 33, spiffed up much more. She was clad in a denim wrap dress with buttons going up the front. 
Their six-year-old son, Gibson's ninth child, wore an orange T-shirt and olive-colored shorts as he kept close to his mother.
Out and about: Mel Gibson wore a plaid blue shirt and black pants as he stepped out with his family in LA
Loved ones: The actor was joined by longtime girlfriend Rosalind Ross, 33, and the couple's 6-year-old son Lars
The Passion Of The Christ director's short hair was almost completely gray and he had a scruffy white beard.
He wore a crew neck black T-shirt underneath his outer layer, and the sleeves of his blue shirt were rolled to his elbows.
A pair of eyeglasses were hooked on the collar of his undershirt and he carried a phone protected by a blue case.
Meanwhile, his much younger partner put on a leggy display in her thigh-grazing dress.
She added a pair of auburn-colored suede ankle booties with a short stiletto heel.
Rosalind's lengthy, blonde-highlighted locks were in a loose wave as they spilled down to her waist.
Back in 2016 the acclaimed actor responded to criticism about the couple's staggering age difference.
'Regarding age and relationships, it's just a number. We dig each other,' he told The Mirror at the time. 
His look: The Passion Of The Christ director's short hair was almost completely gray and he had a scruffy white beard
Latest role: Gibson's crime boss character Cormac was revealed in the first trailer for the John Wick prequel miniseries The Continental
In early August Gibson made his debut in the John Wick universe with the first trailer for his upcoming prequel miniseries The Continental.
The teaser showed the star making a bone chilling introduction as a dangerous crime boss who has just had a precious possession stolen.
The show, which premiered September 22 on Peacock, was inspired by the John Wick films starring Keanu Reeves. It takes place decades earlier in the 1970s and blends some of New York City's real-life crises from that decade with the fictional battles among assassins.
The miniseries hones in on a young Winston Scott, portrayed by Colin Woodell.
Source: Read Full Article