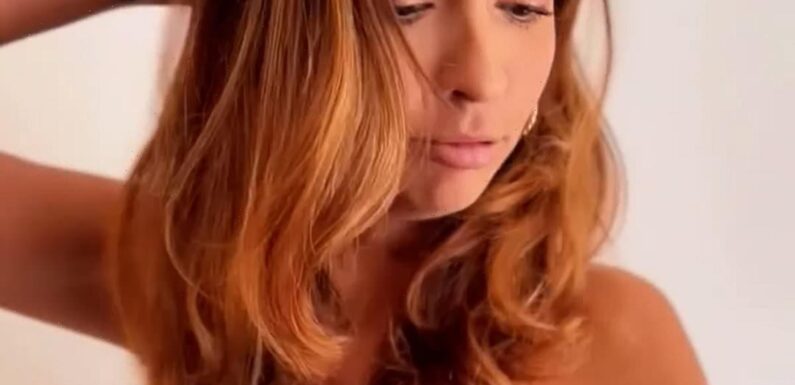 Nick Knowles' fiancée Katie Dadzie, 33, hits back after being shamed for stripping down to sexy black lingerie: 'I have kids to feed and rent to pay on my own'
Katie Dadzie has hit back after she was shamed by trolls for stripping down to sexy lingerie in a series of racy social media posts. 
The mother-of-two, 33, and BBC presenter Nick Knowles, 61, got engaged in July in New Orleans, despite the 28-year age gap. 
On Wednesday she donned barely-there semi-sheer lingerie for a skit video based on a TikTok trend, captioned: 'What he thought he was getting.' 
She posed for the camera in a slew of seductive poses, flicking her hair and showing off her incredible assets in the striped ensemble from her brand Boaboawear, which emphasised her figure. 
The second clip showed Katie eating popcorn and wearing a fluffy dressing gown, with the caption: 'What he got.' 
Row: Katie hit back at trolls who shamed for stripping down to sexy black lingerie in a skit
Couple: Katie, 33, and her BBC presenter fiancé Nick Knowles got engaged in July, despite the 28-year age gap
But trolls were quick to attack the business owner for her revealing outfits, leading to a furious row. 
One Instagram user said: 'U should respect ur man and not show all off on social media tbh.
'It's not nice for him to know that everyone is looking at u …should only be for him…'
Katie hit back, commenting: 'He's a ok with it, but thanks anyway.'
The commenter then added: 'I am not being a hater or anything. Just makes me sad that women still do this when they have a lovely man at home… It's just a shame. 
'You seem lovely and don't need to do this really.'
But Katie soon hit back to defend herself: 'I have kids to feed and rent to pay, on my own – if advertising lingerie for my company helps that, then it's about us not anyone else.
'It's probably more of a shame that you think having a partner means you have to be ashamed of yourself and hide away.'
Hitting back: Katie slammed an Instagram user who said she should 'respect' her man
Cheeky: The hateful comments from trolls come after Katie took to her Instagram page on Thursday to post a carousel of snaps celebrating her fiancé Nick's birthday
Wow! Katie put on a racy display in see-through underwear in a slew of sizzling Instagram snaps 
Katie is no stranger to posting racy pictures to her Instagram feed, posing in a white bustier and thong suspenders as Nick was pictured behind giving her a helping hand in a post for his 61st birthday.  
TV star Nick, who split from his wife Jessica Rose Moor in 2016, made his first appearance with Katie in September 2021 after ending his romance with PR guru Emily Hallinan in February 2020.
Nick and Katie made their public debut as a couple at a restaurant in Bath after being friends for several years.
The TV presenter, 61, and Katie are preparing to tie the knot after getting engaged in New Orleans in July. 
He got down on one knee and proposed with a gummy sweet as Katie beamed from ear to ear. 
Katie previously addressed the 27-year age gap between herself and Nick as she joked that he acts like a 'teenage boy'.
She shared the secret to their happy relationship as she gushed over the Nick who recently slammed criticism of their romance.
Katie addressed their age gap and insisted she doesn't notice it because she acts older than she is, while Nick has a 'Peter Pan complex'.
Proposal: The television presenter and Katie shared the happy news of their engagement in August
Delighted: One picture saw her grinning from ear-to-ear as she showed off the ring Nick had given her which was in fact a gummy sweet
She told The Sun: 'Nick has a Peter Pan complex, he doesn't act the age he is at all. He is like a teenage boy and has so much energy, I also act a bit older, so it works out.'
Katie went on to reveal that the secret of their successful relationship is having separate homes and keeping their own independence.
Giving an insight into their relationship, Katie gushed that they are 'really happy' and said they make sure to have time apart for their work and to be with their children. 
He was also previously married to Gillian Knowles from 1996 to 2000.
Katie has daughters Savannah, eight, and Alex, five, from a previous relationship, whereas Nick has four children from three different relationships.
He shares his daughter Tuesday and son Charlie with his ex-wife Gillian, while he shares another son, TJ, with dancer Paula Beckett.
Nick also has son Eddie, who was born in 2014, with his ex-wife Jessica, and the presenter met girlfriend Katie through his youngest son.
Source: Read Full Article