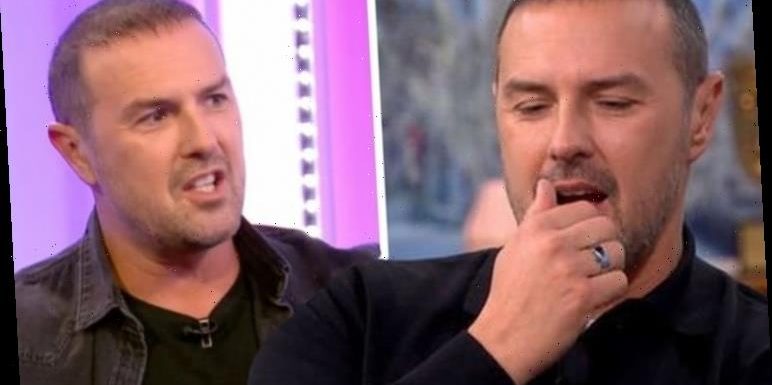 The One Show: Paddy McGuinness takes his top off live on air
When you subscribe we will use the information you provide to send you these newsletters.Sometimes they'll include recommendations for other related newsletters or services we offer.Our Privacy Notice explains more about how we use your data, and your rights.You can unsubscribe at any time.
Top Gear is back on our screen's this evening and Paddy McGuinness, Freddie Flintoff and Chris Harris begin their latest series with a new challenge, as they're set to take a jaunt through the Lake District in replicas of their dads' cars. Ahead of the tribute episode to Colin Flintoff, Ian Harris and Joe McGuinness, Paddy recalled the time he crashed one of his dad's cars and his reaction never left him.
I thought, 'I'm in trouble here,' but he [dad] was so cool about it

Paddy McGuinness
As he got reacquainted with his dad's yellow Ford Fiesta 1.1, it brought back memories of learning to drive at the age of nine and his first ever collision.
"I learnt to drive at a very young age and used to watch Dad tinkering under the Fiesta's bonnet and changing the oil in it, so I learnt to do that myself as well," the car fanatic remembered in a recent interview.
"My dad was dead laid-back. Even when I crashed one of his other cars, he was fine!"
Paddy, who was 17 at the time, went on to explain that the bump was his own fault, having given his friend a thumbs up and not realised the car in front had stopped.
"I rammed straight into the back of it," he winced, as his father's Mini Metro took a hit.
"I thought, 'I'm in trouble here,' but he [dad] was so cool about it – 'It's just metal that can be mended. As long as you're all right,'" Paddy recalled his dad's reaction.
Joe sadly died back in January 2014 at the age of 88, and Paddy wished he could have seen where he ended up.
"I just wish he was here to see me drive now," he told Radio Times.
"I was throwing a £3.5 million Aston Martin DB5 around the track the other day, thinking, 'How did this happen to me?'
"It all seems light years away from that little yellow Fiesta."
Sunday's show will be dowsed in heaps of nostalgia, as Freddie will hop back in his own father's Ford Cortina 1.6 GL and Chris will try his hand at driving the BMW 323i.
During the trio's joint interview, Chris also looked back on the fun memories of his dad's BMW.
DON'T MISS…
Olly Murs on why he's called it quits pranking girlfriend Amelia [LATEST]
'Freedom of speech is a hill I'm happy to die on' says Piers Morgan [NEWS]
Piers Morgan breaks his silence on GMB exit: 'Trust your gut' [BREAKING]
One memory that really stood out for him when he sat in the back of the dark-blue vehicle again, was the first time he travelled over 100mph on the way home from a weekend break in Paris – but it wasn't for fun.
"It was 1980 and, due to lots of political protests, we got tear-gassed in the Paris Metro," he said.
"I remember running out, crying, and because of the delay we had to race to catch the hovercraft home.
"We were hurtling along at over 100mph and it was utterly exhilarating!"
The trio's full interview with all three presenters is available to read now in Radio Times [RADIO TIMES]
He continued to tell the publication: "This box-on-wheels was making the most terrific screaming noise.
"I'm convinced that's when I first got the bug for speed."
The trio's full interview with all three presenters is available to read now in Radio Times.
Top Gear returns on Sunday 14th March at 8pm one BBC One.
Source: Read Full Article