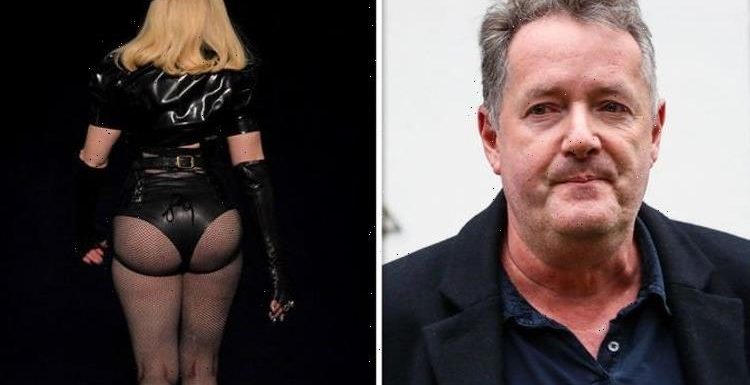 Madonna makes surprise appearance at MTV's VMAs
We use your sign-up to provide content in ways you've consented to and to improve our understanding of you. This may include adverts from us and 3rd parties based on our understanding. You can unsubscribe at any time. More info
Piers Morgan, 56, has risked incurring the wrath of Madonna's loyal fan base after he labelled her MTV Video Music Awards attire "cringe". The legendary pop star looked incredible as she wore a racy outfit that featured a leather garter dress, fishnet stockings, and a hat, sending Twitter into a frenzy.
Opening up the awards show, she stepped out on stage in a Burberry trench coat over a leather puff-sleeve bodysuit and matching black hat.
"And they said we wouldn't last. But we're still here, motherf***ers," she said.
"Happy 40th, MTV! Welcome to the 2021 MTV Video Music Awards."
Then she turned around to walk back into the wings, showcasing the back of the high-cut bodysuit, leading to a slew of reactions both at the event and online.
One of those reactions came from former Good Morning Britain host Piers, who declared the appearance "cringe".
In response, some Twitter followers defended the songstress, as they declared her look to be "fashionable".
One said: "It's called fashion Piers, you just don't happen to like it. Which of course is devastating for the world."
A second remarked: "She has sold over 300 million records in her career. She can dress the hell how she wants."
While a third typed: "She looks brilliant for 63 and I hope I look that good at that age."
Madonna's posterior has been a point of controversy in recent years.
In 2019, she appeared at the Stonewall Inn in New York City to perform her classic, "Like a Prayer." Some fans felt her bum looked different, leading to a Twitter debate over whether she had implants.
In response, Madonna posted a somewhat cryptic message to Instagram. "Desperately Seeking No Ones Approval………………,"(sic) she captioned a photo of herself.
DONT MISS:
'It's not Malibu of the Cotswolds' Jeremy Clarkson blasted by villager (PHOTOS)
Louise Minchin bids farewell to 'emotional' Dan Walker (NEWS)
Dermot O'Leary had 'frank' chat with This Morning's Alison Hammond (LATEST)
"And Entitled to Free Agency Over My Body Like Everyone Else!! Thank you 2019! It's Going to Be an amazing Year!! #2019#freedom #respect #nofear#nodiscrimination."
Although many fans loved Madonna's daring ensemble, others sided with Piers' views.
One said: "That is not fashion what she's wearing. That's an embarrassment."
While a second commented: "She needs to realise she isn't 20 anymore."
Madonna has had an enduring relationship with MTV and has picked up 20 Moon Person trophies during her career.
She also performed her hit song Like A Virgin at the network's first-ever VMAs back in 1984.
After her head-turning appearance, Justin Bieber took the stage with The Kid Laroi to perform their hit song Stay.
The show was hosted by Doja Cat and big winners for the night included Lil Nas X for Video Of The Year and Olivia Rodrigo for Song Of The Year.
Source: Read Full Article