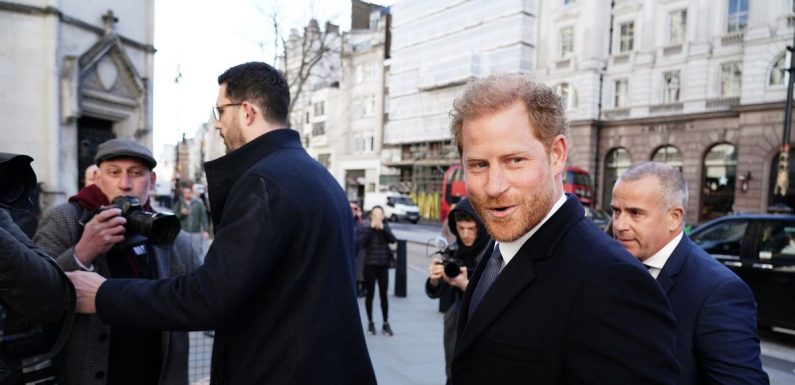 Prince Harry's surprise return to the UK toattend a High Court hearing was "not planned" withKing Charles, aroyal expert has claimed.
The Duke and Duchess of Sussex are "unpredictable" and "nobody expected" Harry to travel to the Royal Courts of Justice this week, commentator Richard Fitzwilliams added.
The 38 year old royal has flown to London on a solo visit for the hearing of his privacy case against Daily Mail publisher Associated Newspapers Ltd (ANL) over allegations of unlawful information gathering.
He is part of a group – along with Baroness Doreen Lawrence,Sir Elton John and
and actressesSadie Frost andLiz Hurley – who are bringing claims against the company.
The Duke isnot expected to meet the King or brotherPrince William while he is in London.
Relations between Harry and the Royal Family continue to be strained following the publication of the Duke's bombshell memoirSpareand the release of the Sussexes' controversialNetflix documentary.
And as Harry was photographed at court for day two of the hearing on Tuesday, royal expert Richard Fitzwilliams toldthe Express: "Clearly this was not planned because Charles would have been in France and he's going to Germany on Wednesday.
"It's very hard to see what he and the King would have to say to each other because can you trust saying anything sensitive when it might very well appear in a book or article?"
Mr Fitzwilliams went on to say that Harry was keen to attach himself to the "very distinguished" other claimants in the court case – while also appearing to take a stand on the issue of privacy – about which he and Meghan Markle, 41, "feel very strongly".
He added: "The problem with this appearance is that it is a surprise appearance and the Sussexes do like to surprise. They're always unpredictable and nobody expected this."
The four-day preliminary hearing at the Royal Courts of Justice in London began on Monday and is set to include ANL's bid for the claims to be dismissed without a trial.
The allegations against the publisher – which are denied – include the hiring of private investigators to place listening devices inside cars and the accessing and recording of private phone conversations.
When the allegations were first made, ANL described them as "preposterous smears" and a "pre-planned and orchestrated attempt to drag the Mail titles into the phone-hacking scandal".
A spokesperson for the publisher also said the allegations were "unsubstantiated and highly defamatory claims, based on no credible evidence".
King Charles, meanwhile, was supposed to be on his first state visit to France this week – though it waspostponed amid the country's ongoing protests over retirement reforms.
He is set to travel to Germany later this week forthe second part of the planned trip.
It all comes as question marks still hang over whether the Duke and Duchess of Sussex will go toKing Charles' Coronation.
Harry and Meghan announcedthey have received an invitation to the historic event on 6 May – but they have yet to confirm their attendance.
READ NEXT:
Click here for today's top showbiz news

Harry and Meghan's 'totally different' christening for Lilibet 'was not liked' by institution

Royal Coronation to be 'protected' to avoid clash between Harry and William as they reunite

Queen was left 'near breakdown' after assassination attempt on Prince Charles

For the latest royal news, sign up for OK!'s royal newsletter here
Source: Read Full Article