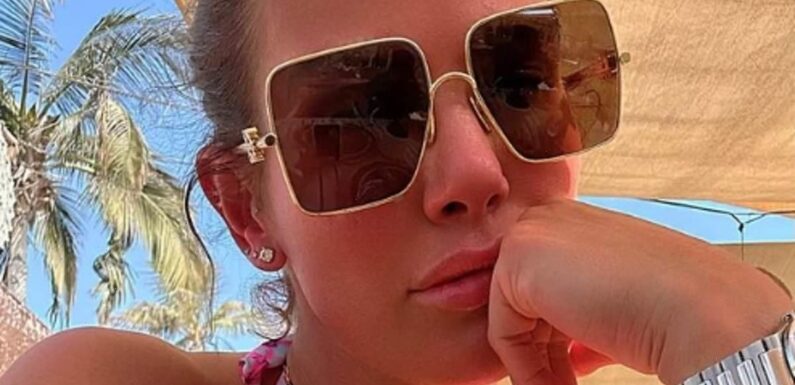 Swimsuit clad Rebekah Vardy's three word post proves WAG is totally unbothered by Coleen Rooney's Disney documentary as she laps up the sunshine on family holiday
Rebekah Vardy has broken her silence following the release of Coleen Rooney's Wagatha Christie documentary on Tuesday.
The WAG, 41, took to Instagram to reveal she was 'living her best life' despite hearing the explosive Disney+ series unfold.
The mother-of-five jetted off on holiday with her children a day before Coleen Rooney: The Real Wagatha Story released.
Sharing a picture of her son Finley, six, and two daughters Sofia, eight, and Olivia, three, Rebekah captioned her post: 'Living their best lives'.
Following the post Rebekah shortly after posted a bikini selfie, looking rather glum and joked: 'As am I [laughing face emoji]'.
'Living her best life': Swimsuit clad Rebekah Vardy, 41, has broken her silence since Coleen Rooney's Wagatha Christie documentary aired on Tuesday
Drama: While Coleen's (pictured) explosive documentary unfolded, Rebekah took to Instagram to reveal she was 'living her best life'
Escape: The mother-of-five jetted off on holiday with her children a day before Coleen Rooney: The Real Wagatha Story released
In the documentary Coleen, 37, revealed the stress of the Wagatha Christie court case made her physically sick.
Speaking in her series, the TV personality admitted she 'completely changed her character' as she struggled to cope with the pressure of going to trial. 
Reflecting on the pressure of being sued by Rebekah, she recalled: 'I remember sitting with my dad one day, we took Klay to football. He looked at me and said "Coleen you're not you anymore, you look sick."
'It was horrible because I didn't want to be around people and that's not me at all. I was snappy at the kids, I just hated trying to be happy. 
'I could see people were concerned but it was just constantly on my mind. I couldn't get away from it.'
Sharing his concerns for his wife, Wayne Rooney confessed: 'She couldn't get it off my mind. It was probably the lowest I'd ever seen her.'
Wayne's agent Paul Stretford added: 'I remember her crying on the phone it was becoming unbearable, I  thought she would fold and give Coleen what she wanted.' 
Reflecting on the moment she first saw messages exchanged between Rebekah and her agent Caroline Watt, Coleen revealed she 'felt sick'. 
Distressing: Coleen revealed the stress of the Wagatha Christie court case made her physically sick as she spoke in her new Disney+ series about the Wagatha Christie scandal
Struggles: Reflecting on the pressure of being sued by Rebekah (pictured) Coleen recalled 'It was horrible because I didn't want to be around people and that's not me at all'
Tragic loss: Rebekah referenced Coleen's sister Rosie in one message, who passed away aged 14 in 2013 following her lifelong battle with Rett syndrome (pictured in 2006) 
Feud: Coleen and Rebekah first met at the England v Wales, UEFA Euro 2016 match (pictures) as their husbands Wayne and Jamie were playing 
In one text, she Rebekah described her rival Coleen as a 'c***' after it emerged she had unfollowed her on Instagram and blasted her as a 'nasty b***'.
In another text Rebekah suggested 'maybe I should say something about Rosie', referring to Coleen's sister who died aged 14 after battling Rett Syndrome, a rare brain disorder that causes severe disabilities. 
Coleen confessed: 'I remember looking at the messages and feeling sick.
'I couldn't believe two women could be so nasty about women they don't know. I just thought you are so two-faced.
'To plan to create a story to get me to reply back is one thing but to use my sister whose passed away was just wrong.' 
Coleen also detailed the stress of being sued for libel, explaining: 'The thought of being in court scared me. I felt like the victim and I was having to defend myself for something I didn't think was wrong. 
'It was a journey I never ever wanted to be on. A court case to me is for the public, a circus, a show for everyone else.
'I felt ashamed that I was in this situation. A panic came over me.'  
Coleen Rooney: The Real Wagatha Story is available to stream on Disney+
Wagatha Christie timeline: How Coleen and Rebekah's war unfolded 
September 2017 to October 2019 – The Sun runs a number of articles about Coleen, including that she travelled to Mexico to look into baby 'gender selection' treatment, her plan to revive her TV career and the flooding of her basement.
October 9, 2019 – Coleen uses social media to accuse Rebekah of selling stories from her private Instagram account to the tabloids.
Coleen says she spent five months attempting to work out who was sharing information about her and her family based on posts she had made on her personal social media page.
After sharing a series of 'false' stories and using a process of elimination, Coleen claims they were viewed by one Instagram account, belonging to Rebekah.
Rebekah, then pregnant with her fifth child, denies the allegations and says various people had access to her Instagram over the years.
She claims to be 'so upset' by Coleen's accusation, later adding: 'I thought she was my friend but she completely annihilated me.'
The public dispute makes headlines around the world, with the hashtag #WagathaChristie trending.
How it all began: On October 9, 2019, Coleen Rooney, now 36, accused Rebekah Vardy, 40, of leaking 'false stories' about her to the press in an Instagram post (above) 
February 13, 2020 – In a tearful appearance on ITV's Loose Women, Rebekah says the stress of the dispute caused her to have severe anxiety attacks and she 'ended up in hospital three times'. Coleen says in a statement that she does not want to 'engage in further public debate'.
Shortly after Coleen's public accusation, Rebekah – who was pregnant and on holiday in Dubai at the time – denied any involvement (above) 
June 23, 2020 – It emerges that Rebekah has launched libel proceedings against Coleen.
Rebekah's lawyers allege she 'suffered extreme distress, hurt, anxiety and embarrassment as a result of the publication of the post and the events which followed'.
November 19-20, 2020 – The libel battle has its first High Court hearing in London. A judge rules that Coleen's October 2019 post 'clearly identified' Rebekah as being 'guilty of the serious and consistent breach of trust'.
Mr Justice Warby concludes that the 'natural and ordinary' meaning of the posts was that Rebekah had 'regularly and frequently abused her status as a trusted follower of Coleen's personal Instagram account by secretly informing The Sun of Coleen's private posts and stories'.
February 8-9, 2022 – A series of explosive messages between Rebekah and her agent Caroline Watt – which Coleen's lawyers allege were about her – are revealed at a preliminary court hearing.
The court is told Rebekah was not referring to Coleen when she called someone a 'nasty b***h' in one exchange with Ms Watt.
Coleen's lawyers seek further information from the WhatsApp messages, but the court is told that Ms Watt's phone fell into the North Sea after a boat she was on hit a wave, before further information could be extracted from it.
February 14 – Coleen is refused permission to bring a High Court claim against Ms Watt for misuse of private information to be heard alongside the libel battle. A High Court judge, Mrs Justice Steyn, says the bid was brought too late and previous opportunities to make the claim had not been taken.
April 13 – Ms Watt is not fit to give oral evidence at the upcoming libel trial, the High Court is told as the case returns for another hearing.
The agent revokes permission for her witness statement to be used, and withdraws her waiver which would have allowed Sun journalists to say whether she was a source of the allegedly leaked stories.
April 29 – Rebekah 'appears to accept' that her agent was the source of allegedly leaked stories, Coleen's barrister David Sherborne tells the High Court. He argues that a new witness statement submitted by Rebekah suggests Ms Watt was the source but Rebekah claims she 'did not authorise or condone her'.
Rebekah's lawyer Hugh Tomlinson says the statement did not contain 'any change whatever in the pleaded case', with her legal team having no communication with Ms Watt.
Source: Read Full Article