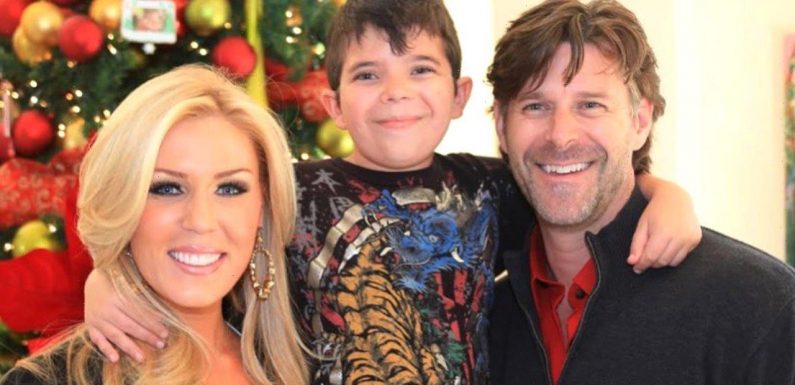 The former 'The Real Housewives of Orange County' star is mourning the death of her longtime partner Slade Smiley's son Grayson Smiley-Arroyo, who had been battling cancer.
AceShowbiz –Gretchen Rossi and her family are in mourning now. The former "The Real Housewives of Orange County" star has announced the death of her stepson Grayson Smiley-Arroyo's death at age 22 after a battle with cancer.
Gretchen took to her Instagram account on Tuesday, February 7 to express her grief over the loss. "Our rational minds told us this day might come, but our hearts always held onto the hope that this day would not come to fruition," she wrote along with throwback pictures of their moments together with Grayson, the son of her longtime partner Slade Smiley.
"We are beyond devastated and heartbroken over the loss of Gray," she added, before remembering her late stepson, "Grayson Arroyo-Smiley was such a special human being. He was an Angel on this earth and an incredible warrior…a warrior like no one has ever seen before. He fought everyday through his pain and discomfort to find joy in the smallest of things. He was always singing & dancing & laughing despite his circumstances."
The former Bravolebrity added, "He was a true beacon of light and hope. Although his life was cut short on earth he made an incredible impact on so many people. The Lord knew his life had purpose and would touch many along the way."
"We are forever grateful for the many lessons learned from this little man, and will miss his beautiful spirit immensely. May the Lord hold him in his hands, renew his broken body, and give him life again. This isn't goodbye but rather see you soon little man…..We love you Grayson. You will forever be in our hearts," she continued, before asking people to "please respect our privacy as we mourn this unbearable loss."
Grayson's mom Michelle Arroyo also shared the heartbreaking news on her own account. "I'm heart broken to share that my sweet Gray passed away Sunday night," she wrote. She went on detailing Grayson's long battle with inoperable brain tumor, which he was first diagnosed with in 2006.
"It was very unexpected as last week he had CSF drawn from his shunts and they adjusted the valve setting of his shunt and he was doing much better," she recalled. "We were still struggling with his diarrhea and I was giving him potassium 3 times a day because it was dropping so low. His heart stopped here at home and I performed chest compressions to get it going until the paramedics arrived and took over. When he left for the hospital he looked good and was breathing on his own but his heart gave out again at the hospital."
"I don't have all the answers now, but I do know that the last few months with fevers, infection, and low potassium most likely took a toll on my sweet boys heart," she shared. "I'm still in shock and going through the motions of dealing with all the details. I know Gray is playing cards with Gramma and playing Trouble with our beloved Diane. His dog Mo is right at his side as he never left him."
While Gretchen isn't married to Slade, they have been together for 13 years. The couple also shares 3-year-old daughter Skylar Gray, whose middle name is a nod to Grayson.
You can share this post!
Source: Read Full Article