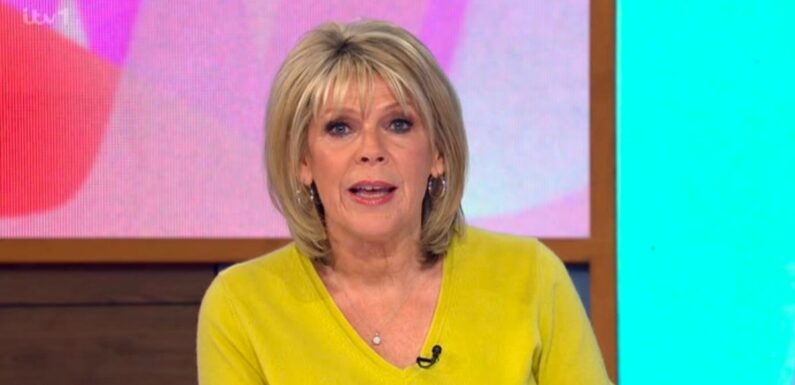 Ruth Langsford has hit back at claims she is 'feuding' with her Loose Women co-star Coleen Nolan. The 63 year old presenter has already found herself embroiled in the drama surrounding This Morning – after her husband Eamonn Holmes publicly criticised Holly Willoughby and Phillip Schofield following the latter's departure from the show.
And earlier this week, ITV viewers accused Ruth of snubbing Holly during a live link between This Morning and Loose Women. Now, during an episode of Loose Women, Ruth addressed claims of tensions with fellow panellist Coleen, 58.
When the panel were discussing therapy on the show, Coleen told Ruth she was her "confidante". Smiling at her co-star, Ruth replied "don't believe the magazine covers!", in response to reports that relations between the pair were frosty.
But some Loose Women viewers believe there was tension between the pair earlier in the show when Coleen reminisced about ice cream parlours in the sixties. Ruth joked, 'it was 102 years ago yeah", prompting a grimace from the Nolan sister.
And it has previously been reported that the pair do not see eye to eye – following an awkward exchange between them in October. As the panel were discussing humour, Coleen shared that she thought she was funny. Ruth replied, "you're not that funny", prompting gasps from the audience.
Coleen replied: "You know this is going to be all over the magazines next week. Because we're always at war!" Ruth said: "We are always at war. We have been at war for years!"
The awkward moment between Ruth and Holly, meanwhile, came during a live link on Tuesday. During the link, Ruth noted that both she and Josie Gibson, who has been presenting alongside Holly this week, were both wearing green, as she joked: "We've got the green memo today Josie. You look great!"
However, viewers noted that Holly, who was also wearing green, did not get mentioned. Ruth did not appear to address her directly either.
Holly returned to This Morning on Monday after taking a break amid a dramatic few weeks that saw Phillip, 62, quit the show and admit to an affair with a younger colleague. The fallout from the scandal has led to scrutiny of the presenting duo and This Morning – with the programme's culture branded "toxic" and some commentators questioning whether Holly should continue to host the show.
Holly admitted she felt 'shaken, troubled and let down' by Phillip as she gave an emotional statement on her return to This Morning. Presenting the episode alongside Josie, she spoke out on the affair scandal for the first time.
She said: "You, me and all of us at This Morning gave our love and support to someone who was not telling the truth, who acted in a way that they themselves felt that they had to resign from ITV and step down from a career that they loved. That is a lot to process."
But a body language expert concluded that Holly was "not genuine" as she delivered the statement on air.
READ NEXT:
Holly Willoughby's This Morning return broken down – from 'approved script' to outfit

Holly Willoughby nails summer styling with her £129 orange floral skirt
Source: Read Full Article