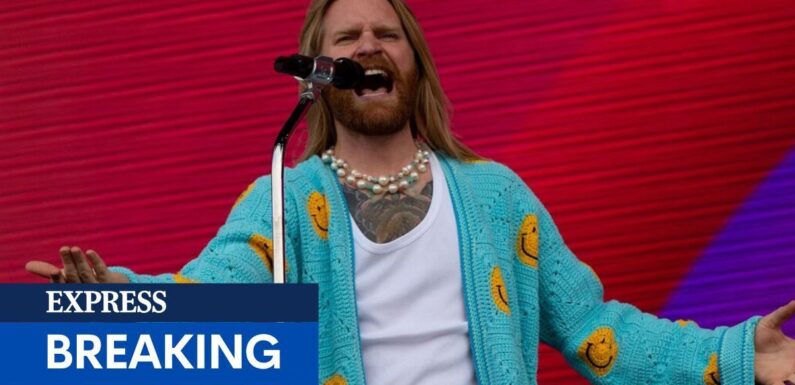 Sam Ryder has revealed he's had to unfergo surgery after a lump was found above his eye.
The 34-year-old star displayed his sore-looking face in smiley pictures and videos from the weekend.
Sam appeared to be his usual happy self as he performed with energy across festivals, refusing to let his recent procedure get the better of him.
Taking to his Instagram page, he wrote: "Had some surgery to remove a lump above my eye (should be all good though, nothing to worry about) anyway, the best medicine was a weekend full of music with my pals and singing my head off with you all!"
Seemingly having ignored doctors' orders however, he added: "Ps. sorry for jumping around, Doc."
Read More… Catherine Zeta-Jones and Michael Douglas put on raunchy display on boozy yacht
Many of his 4.4 million followers flocked to his post to send their well wishes.
Karen Przybylski wrote: "Please look after yourself @samhairwolfryder.
"We all want to enjoy your positivity and general fabulousness for a long time to come!"
LadyK1234 commented: "Sam, all credit to you for not letting your fans down.
"However, please look after yourself!! We need you in one piece!"
"Wishing you a speedy recovery from the surgery!!! It was amazing to see you at Belladrum," Elliot typed.
In one picture, the Eurovision star made fun of his own bruising by getting a pal to pretend to punch him in the eye.
Another close-up snap shows him boasting a smile ahead of going onto stage.
Additionally, he appeared in high spirits while posing alongside a stoney-faced Noel Gallagher.
The snap certainly caught fans' attention and many left their thoughts on his post.
We use your sign-up to provide content in ways you've consented to and to improve our understanding of you. This may include adverts from us and 3rd parties based on our understanding. You can unsubscribe at any time. More info
Source: Read Full Article