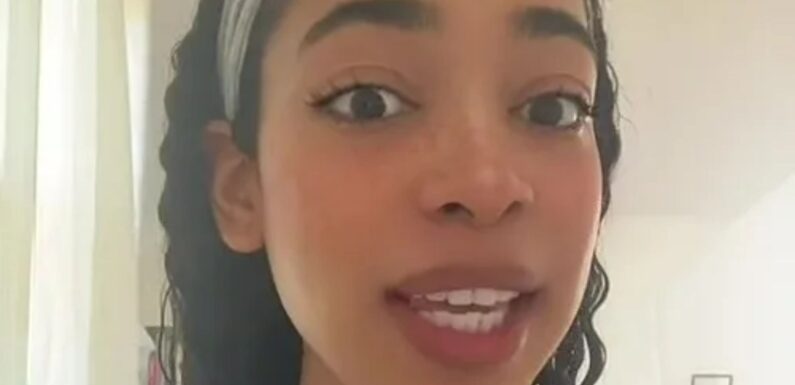 A WOMAN has revealed her secrets to smelling amazing after a "cute" boy refused to talk to her over her body odour. 
Vanessa Irene took to her social media account to share the steps she took to go from "bad smelling armpits" to being complimented. 
Dressed in a white T-shirt with her raven hair styled back with a band, she told viewers: "Yeah but like this guy didn't wanna talk to me because he said that my armpits smell and I didn't know that that's the reason he didn't wanna talk to me." 
She explained that the man had a crush on her and said he was "cute" but things never worked out between them. 
"But his friend ended up telling me, he was like: 'He said it's because you smell'," she shared. 
Now that she's older, however, Vanessa receives compliments from people, who say: "Oh wow, you smell really good." 
read more fabulous stories
Mrs Hinch fans' tips for making a reed diffuser last & how to know it's done
Beauty fans go wild over a £12 dupe that smells like a Marc Jacobs perfume
Going from zero to a compliment is "very nice", she explained. 
But the real issue was that she knew her armpits smelled at the time, but she didn't know how to fix it. 
"I was just hoping that nobody around me noticed it," she said. 
Now that she's fixed it, she's decided to share her secrets as she said: "Number one, not all deodorants work for everybody. Like Dove has a different effect…
Most read in Fabulous
CAMERA SHY
I was engaged to pop star & voted UK's sexiest man – but I've ditched fame
MYSTIC MEG
If single, your perfect match has a strong link to the month of July
ROYAL SHOCK
Inside Princess Margaret's scandalous affair with 'toy boy' garden designer
TOY BOY TALES
Woman, 83, who married toyboy, 37, finally reveals how much cash she gave him
"But what helped me was medical grade deodorant. I use Mitchum, which is medical grade. 
"After I put that on, I never had a scent again. I was not sweating anymore." 
She went on to explain that her diet also helped her as she was once "slightly chubby". 
"I realised that the more water I drank and the more I exercised, the less I would sweat and the less I would smell," she shared. 
TikTok user @thevanessairene explained that the more she took care of herself, the better she smelled. 
She then shared several "tricks" to do during an emergency, including using rubbing alcohol on your armpits to eliminate an odour. 
"You can use hand sanitizer [for this], but don't use perfume because perfume doesn't have enough alcohol to make it go away," she said. 
"And if you don't have alcohol, you can use coconut oil because there's properties in the coconut oil that can get it out and make it smell really good."
Vanessa said another alternative is to go to the bathroom and use soap and water on your armpit to wash the smell off. 
She said you should carry a stick of Mitchum in your bag too. 
"Now at this age, people will be like: 'Oh wow, you smell really good,' and it's such a compliment to hear that," she said. "Going from being a teenager and having a guy say that to me to this…" 
In the caption she added: "Pretty girls don't smell!" 
People flocked to the comments section as one person wrote: "I'm a smelly girl too and Mitchum is my holy grail". 
Another shared: "Mitchum roll on stays on for so long it's super strong for someone sweaty like me". 
While a third posted: "Yesss I love Mitchum unscented it's the best. I even wear the rain scented on to bed because I accidentally bought that one lol. I never smell bad". 
Mitchum is made with 96% naturally derived ingredients and 0% aluminium, according to the website. It's also dermatologist tested, vegan and cruelty free.
And it has been formulated without added parabens, phthalates and artificial preservatives. 
Read More on The Sun
Kylie Jenner and Timothée Chalamet go public with romance at Beyonce's LA gig
I'm a paramedic – everything to know about safe eating & no-go foods for kids
Coconut oil, on the other hand, helps kill bacteria and neutralise body odour thanks to fatty acids like lauric acid, which are known for being antibacterial. 
Meanwhile, here's what your body odour says about your health – and when it could be deadly. 

Source: Read Full Article