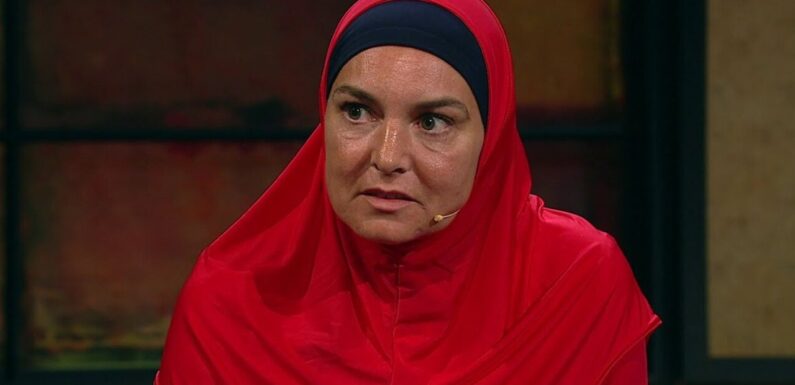 The 'Nothing Compares 2 U' hitmaker explains the real reason she ripped up a picture of Pope had something to do with her own mother besides the church's scandal.
AceShowbiz –Sinead O'Connor intended to attack her abusive mum by tearing up a picture of Pope John Paul II on US television in 1992. The singer, whose remains have just been released to her family after she was found dead in London aged 56, caused a storm when she ripped up the image of the pontiff during a live performance on "Saturday Night Live", but contrary to widespread reports that she only did it to protest the Catholic church's cover-up of sexual abuse, the singer meant the controversial moment to target all abusers – including her mother.
"My intention had always been to destroy my mother's photo of the pope. It represented lies and liars and abuse. The type of people who kept these things were devils like my mother," she said about the incident in a passage from her 2021 memoir "Rememberings" that has resurfaced since her death.
"I never knew when or where or how I would destroy it, but destroy it I would when the right moment came. And with that in mind, I carefully brought it everywhere I lived from that day forward. Because nobody ever gave a s*** about the children of Ireland."
Sinead added in her brutally frank autobiography – which detailed the years of abuse she suffered at the hands of her mum Johanna Marie, who died in a car crash in 1985 aged 46 – the religious backlash she got for tearing up the Pope's picture was worth it for the publicity and album sales.
She said about the stunt, which came two years after she shot to fame with her career-defining release of her cover of Prince's "Nothing Compares 2 U" and its teary music video, "I feel that having a No 1 record derailed my career and my tearing the photo put me back on the right track… some things are worth being a pariah for."
You can share this post!
Source: Read Full Article