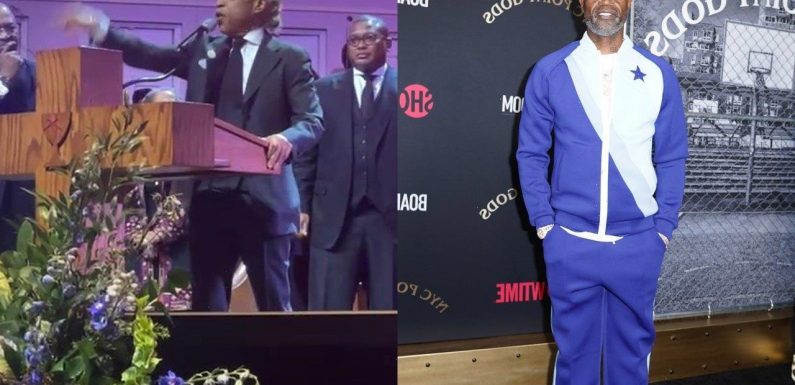 The former NBA star accuses the civil rights activist of having an ulterior motive by making an appearance at the homegoing service for the 29-year-old black man, who was fatally beaten by cops.
AceShowbiz –Stephen Jackson isn't the least impressed by Al Sharpton's eulogy at Tyre Nichols' funeral. Though they seem to be on the same side, fighting for justice for the victim of police brutality, the former NBA star has slammed the civil rights activist for speaking at the homegoing service, which took place on Wednesday, February 1 in Memphis, Tennessee.
Stephen, who worked alongside activists when George Floyd was killed by officers in Minnesota, accused Stephen and other leaders of having an ulterior motive by making an appearance at the funeral. Not mincing his words, he commented on The Shade Room's post of Al Sharpton's eulogy video.
"Y'all keep letting these folk fool y'all," the former professional basketball player wrote. "Same scene Al sharpton and Crump Crew. All for political gain. They pray on people's pain." He continued, "Seeen it first hand with G Floyd. If it's not a national media case u won't see them. Yet we getting killed everywhere by police. Free game."
Tyre was tased, pepper sprayed and beaten by five Memphis Police Department officers during a traffic stop on January 7. He was hospitalized in a critical condition and died three days later. In heartbreaking footage of the incident, he told the cops that he was just trying to get home and repeatedly called for his mother while being beaten.
His death has sparked nationwide protests. The five officers, Tadarrius Bean, Demetrius Haley, Emmitt Martin III, Desmond Mills Jr. and Justin Smith, who are all African-American, were fired from the police department, and two Memphis firefighters who responded to the scene were relieved of duty and ultimately fired.
Tyre's funeral was also attended by Vice President Kamala Harris, White House Director for the Office of Public Engagement, Keisha Lance Bottoms, Breonna Tayor's mother Tamika Palmer and George Floyd's younger brother Philonise Floyd.
You can share this post!
Source: Read Full Article