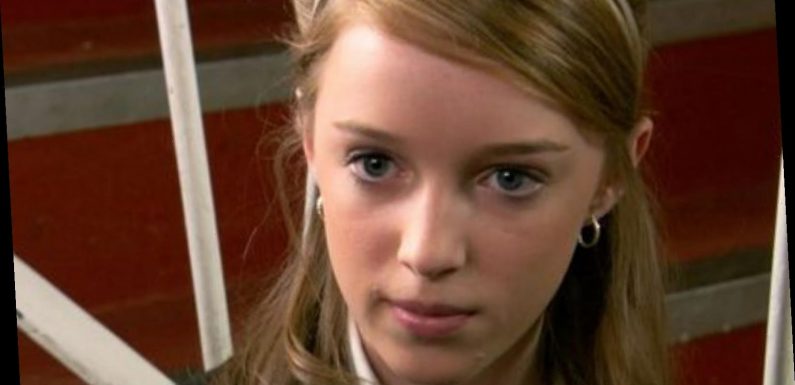 Phoebe Dynevor has undergone a stunning transformation. The candy colored, addictive Netflix show Bridgerton was a veritable smash hit after its release in 2020. As the Evening Standard reported, it was watched by 63 million households in just four weeks. Touted as "Gossip Girl meets Pride and Prejudice," the show made headlines for its progressive, diverse casting and the exceptionally careful way it approached the (many) intimate scenes.
Dynevor starred as Daphne in Bridgerton, the show's leading lady in season 1. While the actress had appeared in a range of other popular programs, including Waterloo Road, The Village, Dickensian, Snatch, and Younger, Dynevor well and truly shot to international fame after her turn in the Netflix show (via IMDb).
So, who is the young, relatively unknown actress who captivated us as Bridgerton's Daphne? And how did she end up landing this coveted role? It turns out, Dynevor was once just a young girl with big dreams of becoming an actress — and she's had quite the journey to get to where she is today. Here is the stunning transformation of Phoebe Dynevor.
Phoebe Dynevor was raised by an artistic family
The world of TV is not new to Phoebe Dynevor, who was born in 1995. Her mother, Sally Dynover, is also an actress; she's known for starring as Sally Metcalfe in the iconic British soap opera Coronation Street, a role she's played for decades. Her father, Tim Dynover, is a television screenwriter who frequently writes for another soap, Emmerdale (via The Guardian). As a child, Phoebe sometimes got the chance to visit them on set. As she told Express, "I was always really interested in what was going on, watching the cameramen and stuff."
Even though Phoebe's parents didn't initially encourage her to pursue a career in acting, she quickly decided to follow in their footsteps. Luckily, her parents set an impeccable example for the young actress, particularly when it comes to managing a life in the spotlight. As she explained to Grazia, "[My mum has] always taken [fame] in her stride, and been very chilled and grateful and humble." She also explained that "gratitude is the most important thing." Sounds like Phoebe picked up a few crucial lessons by watching her mother as a child.
Phoebe Dynevor learned some major life lessons from her parents
While watching her parents operate in the world of television helped Phoebe Dynevor learn about living with fame, her parents also taught her a few other important life lessons. In a 2014 interview with Express, the actress recalled, "My mum and dad taught me to respect everyone and to be kind." And that's not all — Dynevor also picked up an inherent politeness from her mother. "She'd never say a bad word about anyone or anything," she explained. "I love that about her." Sounds like Dynover had a couple of wonderful role models growing up.
Not only did her parents teach her manners and kindness, they also introduced Dynover to some inspiring film and TV. She explained to Town & Country that she "grew up in the era of Keira Knightley," and watched all of her period films. She also recalled, "I remember watching Brideshead Revisited as well when I was young." Apparently, that was her father's contribution to her cultural upbringing. It's clear that Dynevor was, somewhat accidentally, well-prepared by her parents to become a superstar in a period drama.
Phoebe Dynevor knew she wanted to be an actress after a fateful audition as a child
Phoebe Dynevor was enthralled by the world of acting from an early age. As she told Express, "I've always been a show-off." When her grandparents visited, she and her sister were always eager to perform.
When Dynevor was 11, she convinced her parents to let her attend open auditions for The Golden Compass. While the actress didn't end up landing the role, she recalled to The Guardian, "I had the best day of my life." The experience lit a flame in Dynevor, and from that moment on, she was set on making acting her career. "It was like, 'Right, what's next? How are we doing this?'" she pondered. "My mum and dad couldn't stop me."
Although Dynevor didn't go to a special school for child actors, she continued to persevere in her dreams of becoming a professional actor, attending auditions while also going to school. It's pretty cool to learn that the actress has been set on acting since the age of 11 — and her determination finally paid off.
Phoebe Dynevor got her big break as a teenager on the BBC show Waterloo Road
It wasn't long before Phoebe Dynevor landed her first major role; she was 14 when she was cast as Siobhan Mailey in the BBC show Waterloo Road. Dynevor played a well-off teenage schoolgirl in the show about a comprehensive school. Funnily enough, her Bridgerton co-star Regé-Jean Page also had a brief role on Waterloo Road as well (via OK!).
Starring in a TV series as a teen wasn't always easy for Dynevor. As the actress explained to The Guardian, she had to combine normal school classes with on-set tutoring during her stint on the show. It seems like Dynevor was pretty lucky to get this early professional experience in front of the camera. 
After appearing in 20 episodes of Waterloo Road, we bet Dynevor felt right at home on set, even though she'd taken no acting lessons at the time. As she revealed to Deadline, her experience on the show was part of the reason she eventually felt so confident carrying a juggernaut like Bridgerton.
Phoebe Dynvenor had to work hard to become a good student
While Phoebe Dynevor has clearly excelled as an actor, she didn't have such an easy time academically. As she explained to Express in 2014, she actually struggled in school as a child. "To be honest," she confessed, "when I was younger, I went to schools that made me aware I wasn't the brightest." However, with determination and hard work, Dynevor managed to leave school with pretty good grades. "I worked very hard at my A levels [British exams] and I was very proud of the results," she said.
Apparently, Dynevor's hard work in school ended up being pretty useful in her future career, especially when it came to working on period dramas. As she explained in an interview for the BBC about The Village, a show set during the First World War, "I was really into History at school and remembered quite a bit from the things we learnt about that period." She even recalled taking an exam about the aftermath of World War One. "So it seems History did come in handy after all," she summed up.
Phoebe Dynevor finally got to be in a school play when she was 17
After appearing in Waterloo Road as a teen, Phoebe Dynevor didn't get many other opportunities to hone her acting skills. In fact, as she told The Guardian, she rarely participated in school drama. "I think it was because I wasn't really a huge singer or dancer," she explained.
However, while doing her A levels at Cheadle Hulme school, Dynevor finally got the chance to act in a school play; she was cast by her English teacher in the titular role in the famous Ancient Greek play Antigone. For Dynevor, it was a hugely exciting opportunity. "It was just the best moment ever," she recalled. "At 17, I was finally in a school play." It sounds like the experience really cemented the young actress' love of acting. As she told Netflix's Queue, "That feeling of being onstage and that rush and the thrill of finding out about who a person is… There are so many aspects of acting that you fall in love with, and then before you know it you're in and you can't get out."
Phoebe Dynevor was planning on drama school but got too busy with acting jobs
As Phoebe Dynevor explained to The Guardian, her plan had been to audition for drama school after finishing her A levels. She took a year off to travel, and before she had a chance to start auditioning for drama schools, she was cast in Prisoners' Wives as the daughter of a gangster, then in The Village, a BBC period drama.
In fact, Dynevor seemed to be a pretty popular choice for casting directors despite her lack of training. After The Village, she appeared in The Musketeers and Dickensian, two other period dramas. Dynevor also acted in more modern shows; from 2017 to 2018, she starred alongside Rupert Grant (AKA Ron Weasley) in the TV series Snatch, and from 2017 to 2019 she played Sutton Foster's daughter in Younger (via IMDb). It seems like Dynevor was destined for a career in TV — the roles just kept on coming!
Playing more roles as an adult taught Phoebe Dynevor a lot
Even though Phoebe Dynevor was no stranger to television, she still had a lot of learning to do. As she explained in a BBC interview, her character in The Village was her first real "adult role." As she put it, "I've never played such a big role before so it's a challenge and I really wanted to do well." The experience was, as Dynevor said, "quite surreal." She added, "To be in scenes with characters and actors I really admire is incredible."
Additionally, in the show Snatch, Dynevor got the chance to play a strong female character. As she told HeyUGuys, her character's strength is similar to her own. "She knows what she wants and she's gonna get it," Dynevor said. However, as Dynevor explained, that was the only real similarity between her and her character. Sounds like Dynevor was really coming into her own as a confident young actress.
Phoebe Dynevor struggled with self-esteem in her early twenties
Despite her apparent success prior to Bridgerton, Phoebe Dynevor apparently felt a little disappointed with her career. As she confessed to The Guardian, "I had a really strange period in my early 20s with the industry, and not succeeding the way I wanted to, and I put a lot of pressure on myself."
Dynevor also spoke about this difficult period to Glamour. Apparently, her career disappointments led to "points of really low self-esteem." Dynevor also found herself questioning whether she really was suited to the career of an actress. She thought, "Why is this not working? What do I need to do? Who do I need to be for this to happen?" As Dynevor went on to explain, these thoughts about changing herself was a "dangerous" time. It sounds like even Dynevor had to experience the downsides of the industry, especially when it came to her own mental health and self-worth.
Phoebe Dynevor's period of low self-esteem taught her to be bolder
So, how did Phoebe Dynevor get out of her rut of low self-esteem? Well, as the actress told Glamour, she simply learned not to listen to those thoughts that led to low self-worth. "The last two years I've grown up a lot and things started happening when I got confidence in myself and everything just clicked into place," she explained.
And things certainly did click into place. As Dynevor told Deadline, she became bolder as an artist; she started writing and planned to cast herself in her own project. She also got braver with her acting choices in auditions — as she put it, she thought "f*** it" and really went for it in each audition.
In fact, this newfound attitude and confidence eventually led to Dynevor landing her dream role: Daphne in Bridgerton. As she recalled, she thought that she'd never get the role. "So I may as well just do it how I want to do it, and not think about anyone else," she thought at the time. Clearly, her bold approach worked!
To play Daphne in Bridgerton, Phoebe Dynevor had to learn new skills
Landing the role of Daphne in Bridgerton was a dream come true for Phoebe Dynevor, but it certainly wasn't an easy part to play. In fact, as the actress explained to Harper's Bazaar, she was quickly placed on a very busy schedule. She had "horse riding on Monday and piano lessons on Tuesday and etiquette training." Sounds like the actress was basically sent to finishing school before she took on the role. As she remembered thinking, "Oh, okay. This is kind of crazy."
Dynevor went into more detail about the intensive training she underwent prior to filming the show in an interview for Elle. "I learned to ride sidesaddle, which was interesting," she revealed. However, as she recalled, she ended up pressing the producers to let her ride astride. "There's a scene where Daphne has to jump on a horse and quite quickly get somewhere," she explained, adding, "when something quite desperate was happening, she wouldn't be sidesaddle."
Phoebe Dynevor bonded with Regé-Jean Page while preparing for Bridgerton
In addition to learning new skills for Bridgerton, Phoebe Dynevor also had to learn to work closely with a new co-star. Regé-Jean Page played Dynevor's love interest, the Duke of Hastings. As the actress explained to Harper's Bazaar, the two actors spent six weeks preparing together. "So, we had so much time to get to know each other," she said.
While the pair did plenty of rehearsing, it was the dance practice that really helped them build their chemistry. Apparently, Page and Dynevor spent a long time with their choreographer in the studio. "And we just got time to play and sort of form a connection. I think that was so beneficial actually in getting the chemistry right," she continued. The pair also worked with an intimacy coordinator, who helped them prepare for those scenes. By the time they actually started shooting, Dynevor recalled, "We knew each other, we'd already formed that relationship."
Additionally, Dynevor and Page have vastly different acting methods: as Dynevor put it to Deadline, they're "yin and yang." After all, the chemistry between Dynevor and Page is one of the show's biggest selling points.
Phoebe Dynevor had to adjust to COVID secure filming while shooting Younger
Bridgerton had just managed to finish filming its final season in time before COVID-19 restrictions put an end to most productions. As Phoebe Dynevor told Deadline, the last days were "crazy." 
Additionally, in 2020, Dynevor experienced what acting in a post-pandemic world might look like when she filmed TV Land's show Younger. "When I was filming, it was masks on in rehearsals," she recalled. "So you didn't take them off until you say action." Not surprisingly, it was a pretty odd experience. "I didn't see my character's new boyfriend's face until we were filming a scene together, which was really bizarre," Dynevor continued.
Now that Dynevor has experienced acting during a pandemic, she worries about how the situation may affect the second season of Bridgerton. As she explained, "I can't imagine how it would be possible to film under these circumstances… It's a very intimate show."
Phoebe Dynevor has big dreams for her future career
After just one season one Netflix's Bridgerton, Phoebe Dynevor's career seems to be on a very good track. For one thing, she's practically become a household name. As she told Grazia, "There is a potential threat in fame… But I'm so proud of what Bridgerton stands for. I couldn't think of anything else that I would want people to know me from."
After a show like Bridgerton, Dynevor is sure to get plenty of exciting offers, and she has pretty big dreams for her future career. As she told Elle, one of her ambitions is to work with directors like David Lynch and Damien Chantelle. "My director list is very long," she explained. As for actors, she'd love to work with the likes of Cate Blanchett and Meryl Streep.
And acting is just the beginning of Dynevor's plans. She explained to The Guardian that during the COVID lockdown she'd begun working on not one but two scripts. When asked if she might get into writing or directing professionally, she replied enthusiastically, "Oh, gosh, yeah." Sounds like we have plenty more Phoebe Dynevor to look forward to!
Source: Read Full Article