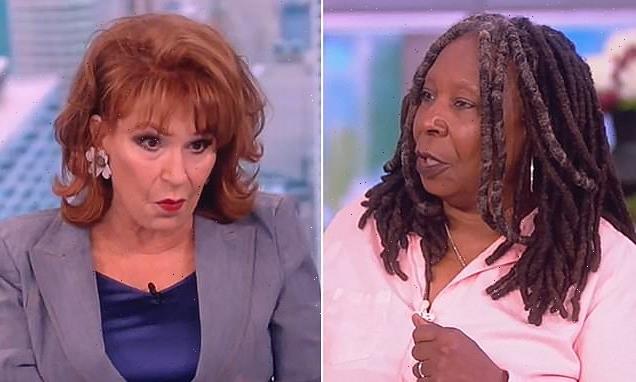 The View's Joy Behar fumes at her co-hosts for mocking 2022 incident when she tumbled over live on-air – as panel laughs down her attempts to blame the fall on the position of her CHAIR
Joy took an epic tumble live on air in March 2022 and had to be helped up
Whoopi, 67, admitted the incident 'scared us so badly' – but Joy was not happy
'My tush missed the seat!' Joy argued as the rest of the panel laughed at her 
The View's Joy Behar got visibly annoyed with Whoopi Goldberg on Thursday's show after her co-host spoke about the time the 80-year-old fell over live on air during a discussion about the moment Mitch McConnell froze during a live press conference.
In March 2022, Joy took a tumble at the very beginning of an episode and had to be picked up by her co-hosts as the live studio audience looked on in shock.
Fast forward 16 months, and Joy was keen to address the incident but ended up clashing with Whoopi, 67, after the head panelist admitted: 'It scared us so badly.'
When Joy tried to explain that it was the swivel chair that caused her to fall, Whoopi and the rest of the panel – Sara Haines, Alyssa Farah Griffin and guest host Rachel Lindsay – laughed and mocked her excuse. 
'You act like it's not true!' Joy fumed as the other hosts giggled sarcastically.
Not happy: The View's Joy Behar was visibly annoyed with Whoopi Goldberg on Thursday's show
Telling the truth: Whoopi commented on Joy's 'scary' fall live on air last year
Tumbling down: Joy had to helped up by her co-hosts when she fell over during a March 2022 episode of the show
Joy brought up the fall while the panel was discussing Senate Minority Leader Mitch McConnell freezing at the podium during a press conference on Wednesday 
However, it was Joy who actually brought up the incident as she decided to mention it during a discussion about Senate Minority Leader Mitch McConnell.
The 81-year-old Republican left the general public concerned earlier this week when he froze mid-sentence during a press conference.
McConnell was speaking at his leadership briefing when he suddenly stopped and appeared unable to complete his sentence, before being led away.
After watching the footage, Whoopi commented: 'I mean that is scary, that is scary to watch.'
Joy agreed with her and replied: 'He's not well. He keeps falling too, before she added: 'Remember when I fell on stage?'
'I do! I wasn't even going to bring it up,' Whoopi laughed as Joy replied bluntly: 'I don't care!'
'Because it scared us so badly,' Whoopi added, to which Joy fired back: 'Why? My tush missed the seat! That's all. I was trying and the thing swung and I went down.'
However, Whoopi was having none of it and told her: 'No, that wasn't all. Listen, you didn't see what we saw,' which prompted Joy to ask: 'What did you see?'
Hear me out: Whoopi was sat beside Sara Haines (center) as she tried to explain herself to Joy
Having her say: Joy appeared frustrated as she tried to explain why she had fallen over 
Having a laugh: The panel mocked Joy as she blamed a swivel chair for her tumble
'We saw you trying to figure out how to not fall onto the floor and that was scary because we didn't know whether to catch you and annoy you because we're touching you…' Whoopi responded as Joy butted in and shouted: 'The chair was moving! It was like a ride at Coney island!'
Whoopi nodded sarcastically and said: 'Uh-huh. No, the chair was moving…' as the rest of the panel laughed.
Trying to prove her point, Joy continued: 'It was! It was swirling! That's why we have these chairs. You act like it's not true. These are new chairs!'
Looking a bit fed up with the back and forth herself, Whoopi then said: 'Okay. They're not new to my behind because my behind doesn't fit in this chair as I've mentioned many times!
'The other one my butt fit on but it was not good for you. So we give what we can,' she added before cutting to a commercial break.
Source: Read Full Article