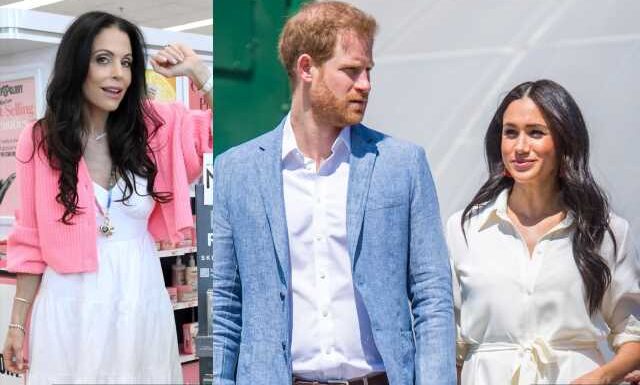 Sharing her two cents on the Sussexes' career flop in America, the former 'The Real Housewives of New York City' star says she can't understand how the former royal couple does 'every single thing wrong.'
AceShowbiz – Bethenny Frankel isn't holding back in sharing her thoughts on Prince Harry and Meghan Markle's life post-Megxit. Criticizing their decision since they moved to the U.S., the reality TV star called the couple "grifters" for botching things "so badly."
The 52-year-old gave her take on Harry and Meghan's situation in a TikTok video posted on Tuesday, July 25. "Remember when I was completely trolled, harassed and canceled for saying that Meghan and Harry could f**k up a wet dream? How could someone botch something so badly?" she began in the video.
"I almost feel badly, like I think I do feel badly, because I can't imagine having so much at your fingertips and letting it all slip away because of living inside your own head," she continued weighing in. "And thinking every single thing that you do and say and want is so fascinating that you should be accepting awards at podiums around the world. Why?"
Describing the Sussexes' post-royal life as a "botched job," she went on asking, "How do you do every single thing wrong?" The reality star couldn't help but speculate what would happen if "God forbid" the pair were to split. She added that they're "all that each other has," referring to Harry's broken relationship with his family, and Meghan's ongoing rift with her dad Thomas Markle.
The Skinnygirl founder added that she's "never seen a botched job like this in my life" when speaking about Harry and Meghan's life stateside. "I just, I can't imagine going from hero to zero like that," she added. "Having money, having opportunities."
"These two grifters, how do you screw something up so badly?" she said of the couple. "Go away for a long time, and basta and close the mouth." The former "The Real Housewives of New York City" star said, "What goes on?"
Bethenny went on suggesting, "Like, just quiet down for a really long time or just like, go on like the 'Real World' or something, I don't know." She captioned the video with, "The biggest BOTCH JOB ever…"
You can share this post!
Source: Read Full Article