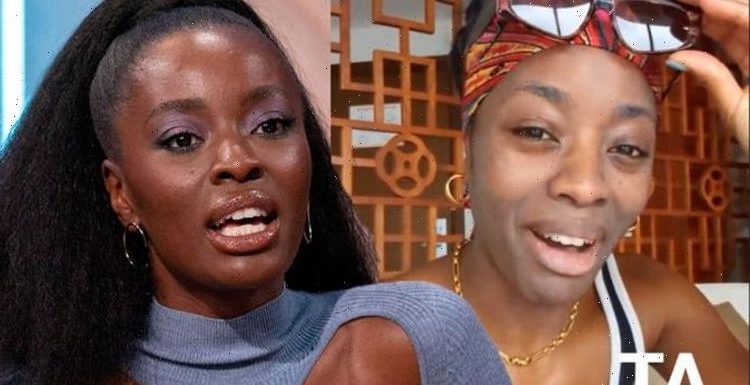 AJ Odudu shares her skin care routine with her followers
We use your sign-up to provide content in ways you've consented to and to improve our understanding of you. This may include adverts from us and 3rd parties based on our understanding. You can unsubscribe at any time. More info
AJ Odudu, 33, suffered an allergic reaction to a face mask last Saturday, leaving her skin "burning". The Strictly Come Dancing star took to Instagram today to tell her followers she is "on the mend" despite the way her face looks.
It's just very itchy and very dry.

AJ Odudu
Taking to her Instagram story, AJ posted an update from Vietnam.
The presenter flew out four days ago to start filming a new Channel 4 show.
In view of her 226,000 followers, she posted an update on her skin condition.
AJ can be seen to have a layer of moisturiser over her face, leading her to address the issue to her fans.
She said: "Morning! I just took a glimpse of myself and was like, 'Wow, wow'."
She then moved her sunglasses off, saw her face and put them back on.
AJ continued: "My skin is on the mend believe it or not. It's not burning as much, it's just very itchy and very dry.
"So I have got the thickest, whitest, most moisturising cream on, which is why I look drop dead gorgeous."
AJ took to Instagram on Saturday to ask her followers for their advice on how to tackle the "dryness and itchiness" as she is currently in quarantine in Vietnam.
"Honey, I've woken up in Vietnam," she exclaimed excitedly.
"I mean, I've got a room with a view and everything but it's overcast right now.
"I am going to be staying in this quarantine hotel for the next seven days before doing a shoot for Channel 4 so I'm very excited," she added.
She gushed: "New year, new show, new allergic reaction."
The star went on to say that she suffered the reaction while using a face mask while on the go.
She said: "Yes, I had an allergic reaction to one of my face masks while travelling and my face is burning, it's itchy and it's dry.
"It's just the worst sensation ever."
AJ went on to say how being in quarantine means she is unable to seek treatment for the reaction.
She continued: "I can't pop into Boots. I don't think they've got a Boots here but even if they did, I can't pop to Boots, so I think I need to order some ice and take my hay fever tablets."
Relaying her experiences of travelling during the pandemic, AJ said: "Last night when we got here I was like hosed down.
"They hosed me down and then they hosed down all my bags and then they banished me to my bedroom and were just like, 'Don't leave this room for seven days."
"So this is where we are quarantining for the next seven days," she said, before adding that all of her meals were being left at her door.
Source: Read Full Article