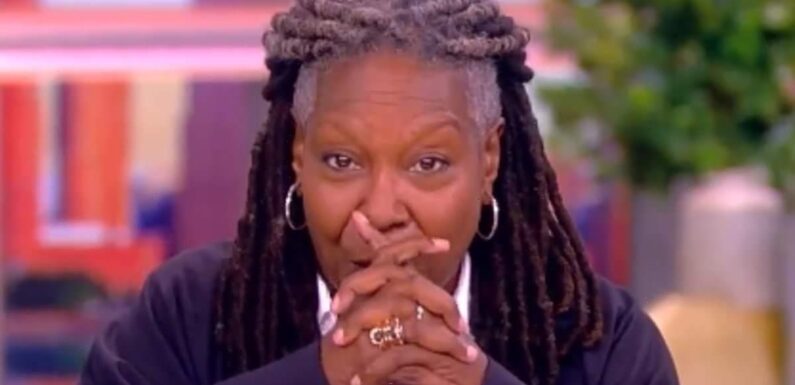 Whoopi Goldberg fights back tears as The View pays emotional tribute to Matthew Perry following his shock death – while recalling his wish to be 'remembered for helping people'
Whoopi, 67, composed herself during a tribute to the Friends star

Perry was found dead in the hot tub of his Pacific Palisades home on Saturday

READ MORE: Jennifer Aniston's four-word warning to her Friends co-star Matthew Perry amid his alcohol addiction resurfaces
Whoopi Goldberg took a second to compose herself as she seemingly fought back tears on The View while leading a heartbreaking tribute to Matthew Perry.
The beloved star, who was best known for playing the witty Chandler Bing, was found dead in a hot tub at his Pacific Palisades home on Saturday. He was 54.
Discussing his passing, Whoopi, 67, said she was 'beyond heartbroken' at the news as she honored the late actor's wish to be 'remembered for helping people'.  
Addressing viewers on Monday's show, she began, 'you know, we were all beyond heartbroken,' before taking a noticeable pause in which she appeared to regain her composure before adding, 'to hear about the sudden passing of Matthew Perry'.
Whoopi Goldberg looked visibly upset as she paid tribute to the late Friends actor, Matthew Perry, during Monday's episode of The View
Perry was found dead in the hot tub of his LA home on Saturday at the age of 54 
Whoopi continued: 'He was just 54 years old and we were very lucky to have him here last year when he was really open about overcoming his struggles with addiction, and he was really passionate about helping other people get through it.'
The View then aired an archive interview of Perry chatting to panelist Joy Behar, 81, during an appearance on The View in November 2022, where he advised addicted people to 'get the right help'.
'You have to have professionals in the business, you cant just be with a group of people who don't know anything about this, because as much as I wanted to quit that day when Jenny [Jennifer Aniston] came up to me and said "we know", I couldn't it just wasn't an option,' he said.
'But if you raise your hand to the right people, you get the right help, and you don't be alone with it, you have a chance out of it – and that's what I did.'
Following the clip, Whoopi took a deep sigh and said: 'He was quite something, and really a funny guy. A really good, funny guy.'
Alyssa Farah Griffin, 34, Sara Haines, 46, Sunny Hostin, 55, and Ana Navarro, 51, also went on to voice their condolences. 
'We were all big Friends fans and that's something wonderful he gave us all is comedy through it, but he mentioned in 2020, he wanted to be remembered for helping people,' Alyssa pointed out. 
Perry was known for his role as Chandler Bing on the sitcom, Friends, which aired until 2004
During an appearance on The View in 2022, Perry recalled how Jennifer Aniston (pictured) had once confronted him over his addiction issues
The actor was open about his issues with addiction – and wanted to help people struggling 
He appeared on The View in November 2022 where he discussed his addiction 
'He said, "the best thing about me bar none is if somebody comes up to me, can you help me stop drinking, will you help me?" He says, yes, and he'll follow up and do it. 
'He doesn't want Friends to be the first thing listed, but how much he cared about other people struggling with addiction.'
'He gave up his house in Malibu and made it into a rehab center,' Sunny added. 
'Having had so much addiction in my own family as many of you know, that is so needed for someone to be able to see you and be able to help you because it's a disease like anything else, but because there's such stigma attached to it, but people don't get the help that they need when they are addicted.'
He starred in the NBC sitcom Friends alongside Courteney Cox as Monica Geller, Aniston as Rachel Green, David Schwimmer as Ross Geller, Matt LeBlanc as Joey Tribbiani, and Lisa Kudrow as Phoebe Buffay 
Perry's cause of death has been 'deferred' with the investigation considered 'ongoing'
The Los Angeles County Medical Examiner's Office announced Perry's cause of death has been 'deferred' with the investigation considered 'ongoing' by authorities.
Perry was a smoker and had also battled alcoholism as well as an opioid addiction, but claimed to have been clean shortly before he is believed to have drowned.
He talked candidly about his problems in the past, having first gone to rehab in 1997 for an addiction to pain medication following a jet skiing accident.
He then returned in 2001 and 2011. He told an interviewer in 2016 that he doesn't remember filming three seasons of Friends.
Despite hiding his demons from public view for years, Perry detailed his struggles in his 2022 memoir, Friends, Lovers And The Big Terrible Thing.
In the opening, he wrote: 'Hi, my name is Matthew, although you may know me by another name. My friends call me Matty. And I should be dead.'
He added: 'People would be surprised to know that I have mostly been sober since 2001. Save for about sixty or seventy little mishaps over the years.' 
Source: Read Full Article