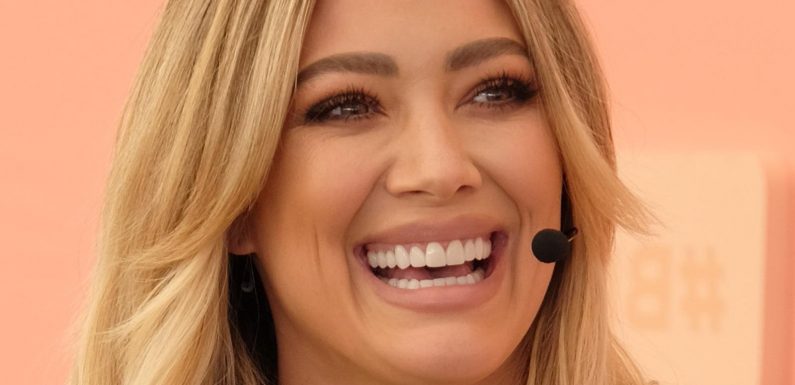 Actor, singer, and, most importantly, wonderful mother Hilary Duff is working on new projects, but she's also always learning new words and phrases that are made popular by the younger generations. The latest case of this exploration comes from Duff discovering the generation Z term "cheugy." This term is rather new and while it's particularly apt for fashion examination, it can really be applied to anything. 
If you don't know what cheugy means, it essentially means that the thing or person it's describing is trying too hard to be cool or relevant or that it was once relevant but has faded from social relevance (via The Seattle Times). For millions of people, Duff is synonymous with her Disney character Lizzie McGuire, who she played in the 2000s and was supposed to play again recently until the reboot for Disney+ fell through. Now, because so many people grew up with Duff on the Disney channel, but may not be as familiar with her now, she's worried that she might be cheugy.
Here's what Hilary Duff had to say about the word 'cheugy'
On May 12, the mother of three posted her concern about being cheugy on her Instagram Story. With a lighthearted tone, she expressed, "Listen, guys, I've been stressing for days about this. Ever since I heard the word? Fear overcoming my mind. Like, am I cheugy? Are you cheugy? Do you know if you're cheugy?" (via E!). And she raises a good point. How is one to know if they're out of date or fashion if no one tells them? In the case of Duff, celebrities come and go all the time, and it's not always easy to remain relevant in the public consciousness. Still, Duff shouldn't have a hard time with this because she's very active on Instagram and still has a successful acting career. After all, she's been on the series "Younger" for several years, and though it's coming to an end, she is already working on new projects (via Vulture).
It's easy to see why Duff would obsess over this term, especially if it's something one hasn't heard before and especially as someone in the public eye. It's pretty safe to say, though, that Duff is not cheugy and it's unlikely she'll be falling into that category anytime soon.
Source: Read Full Article