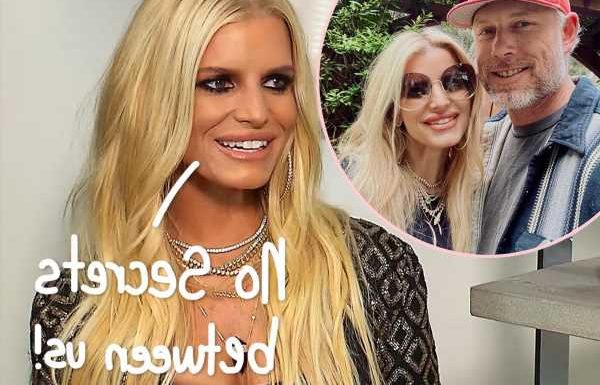 Jessica Simpson is not hiding anything from anyone — certainly not hubby Eric Johnson!
While the 42-year-old singer's recently revealed fling with a big movie star might have come as a shock to everyone, it apparently wasn't for her former football player husband! According to Us Weekly on Friday, Eric "knew previously" about her past romances, including that dalliance with a hugely famous actor (whom Jess chose not to reveal)!
Phew! Imagine if he found out about her affair online?! Big yikes. An insider added:
"Jessica has been opening up about really everything. ​She still had some secrets and she wanted to get them off her chest."
ICYMI, Jessica divulged some details about a secret romance with an unnamed "massive movie star" who supposedly "made millions and millions per film" in an essay called Movie Star: They Always Say They're Single published on Amazon earlier this month. The Dukes of Hazzard actress said they first connected at the 2001 MTV VMAs during a break from Nick Lachey:
"This megastar, who I grew up thinking was so hot, eyeballed me up and down. Like he was undressing me with his eyes."
At the time, Jessica "wasn't ready" for anything more. The pair ran into each other again at the gym following the award show, but nothing ever happened between them at the time since she got back together with Nick. But once she divorced the 98 Degrees singer in 2006? It was full steam ahead! When Jessica and the unidentified man reconnected, they locked lips at the Beverly Hills Hotel – which made her feel "this warm rush all the way down my body to the tips of my toes in my wedges." But the warm and fuzzy feelings quickly disappeared when she saw the mystery guy photographed on the red carpet with his girlfriend. Ugh!
Despite the photo evidence of his other relationship, he insisted they were "completely over," and Jessica believed him. For a while… But eventually she grew tired of sneaking around and started to feel like she was only there "to have sex" with him. She later came to the conclusion he was trying "to hide me from his chick." Oof. Jessica wrote:
"Yes, there was something sexy and enticing about all this, but there was also something demeaning about it. I felt like a call girl. I didn't care if he was my teenage fantasy come to life, this was not a choice that same girl, my younger self, would be proud of."
Of course, Jessica did not reveal the identity of her former beau — but clearly, Eric has the tea on who it was! Lucky him. Thoughts, Perezcious readers? Let us know in the comments below!
Source: Read Full Article