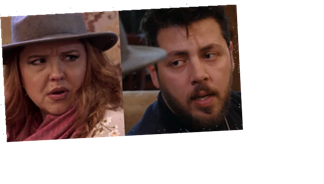 On this week's Season 8, Episode 12 of 90 Day Fiance, Rebecca had a surprise for Zied.
She had been working so much and he was cooped up as the COVID-19 pandemic first encroached upon the US.
So, Rebecca took him on a romantic getaway to a remote cabin.
There, Zied had a surprise for Rebecca, too … a much earlier wedding date than she'd imagined.
The COVID-19 pandemic has ended the lives of over half a million Americans.
Most of those deaths were preventable. This is a tragedy compounded by blundering and malice.
But long before the death toll was that high, it was also causing problems for millions — including reality stars.
Rebecca Parrott has been hoping that the fourth time will be the charm when it comes to husbands.
She wants her fourth wedding to be perfect, and for Zied Hakimi to be her husband for life.
Unfortunately, COVID-19 threw a wrench into those plans … but Zied was more okay with that than she was.
As they began their romantic getaway, Rebecca told Zied that she wanted to check out a potential wedding venue.
Zied replied that, given the realities of the pandemic, a simple courthouse wedding seemed like a realistic option.
Rebecca did not like the sound of that.
"I get that the coronavirus is a new complication in our 90-day timeline," Rebecca acknowledged to the camera.
"But," she continued, "I'm just disappointed that Zied is willing to settle so quickly to have just a regular courthouse wedding."
Obviously, at the time, she had no idea how long the pandemic would go on or how bad it would be.
"Despite the fact that I've been married three times before," Rebecca began.
She expressed: "To be honest, this feels like the first time that I'm getting married, and this is going to be my last wedding."
"So, I want it to be special," Rebecca reasoned. "We're not finished discussing this yet." Later, Zied told her that due to his religion, he can't marry her during the month of Ramadan. Rebecca is once again stunned.
Later on, very casually as they were enjoying their cabin, Zied brought up how they need to get married sooner rather than later.
This was a problem facing multiple couples on Episode 12 — the ticking clock of the K-1 visa.
But in their case, there was another factor — the holy month of Ramadan, during which Zied cannot get married.
"Ramadan is the biggest holiday when it comes to Islam," Rebecca explained to the camera.
"And," she continued sourly, "Zied suddenly mentions that we can't get married during Ramadan."
And Ramadan was not a long distance off, either.
"The main issue is that Ramadan starts in the next few weeks," Rebecca noted.
"And," she continued, "it lasts about a month long."
"So," Rebecca expressed with frustration, "I don't know why it hasn't come up before now."
Rebecca told Zied that they simply could not rush to get married before Ramadan.
Meanwhile, Zied lamented that his K-1 visa expires a week after Ramadan ends (that would be in the second half of May, 2020).
Zied also added that, if they wait until that one-week last-minute window, he cannot live in the same house as her during Ramadan.
"So, wait, you're telling me that I can't sleep in my own home unless I marry you before Ramadan?" Rebecca asked.
She then wanted to know: "Why didn't you tell me any of this before you got here?"
That is a very good question.
"The 90 days for me are very important," Rebecca emphasized to the camera.
She explained that they matter "because the last time that I did this with my ex from Morocco, I married him really quickly."
"And he became an entirely different person," Rebecca remarked.
"But between, you know, the coronavirus and the Ramadan deadline, I don't know what I'll do," Rebecca expressed.
We should note that online sources say that marriages during Ramadan are unusual, but they do happen.
Newlywed couples are still expected to fast, considered difficult for the newly married.
But individual members of any faith may view things in different ways.
If Zied feels that his faith forbids him from marrying during Ramadan, citing Muslim weddings doesn't mean anything.
Of course, if he simply worries that it's frowned upon and learns that it's uncommon but not unheard of, maybe he'll change his tune?
Source: Read Full Article