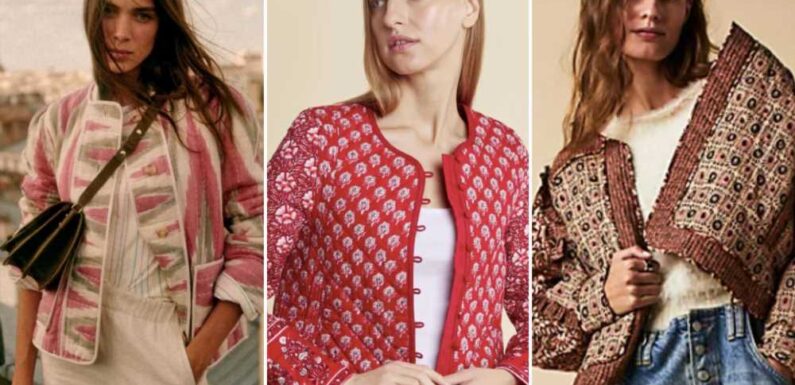 BOHEMIAN style never goes out of fashion, as it often calls on seventies style inspiration.
It's a laidback look, which returns year in, year out, season after season, especially around spring and summer seasons, when festivals are under way.
One garment every wardrobe needs to perfect the bohemian style is a quilted jacket.
Quilted jackets are a worthy investment piece, because they can inject colour, prints and all round fun into any look with ease.
They are a lightweight design, and favourable for those who don't want to wear a heavy jacket, but need an extra something to keep the chill at bay.
You can layer a boho quilted jacket over jeans, whether they are cropped designs, wide leg, even skinny designs, and pair with trainers and a white t-shirt.
READ MORE ABOUT FAHSION
Fashion pro reveals the exact jeans you should wear depending on your body shape
I'm a charity shopping expert – five fashion items to buy and three to avoid
Or you can opt for a frill collar blouse, which pokes out slightly over the layering item.
Swap trainers for sandals if its warm out, or boots, even the on-trend cowboy style.
Alternatively layer over a chic maxi dress.
Plus, quilted jackets come in a sleeveless design, similar to a waistcoat, which we also recommend investing in too.
Most read in Fabulous
Speculation Prince Harry has landed back in UK for coronation as rift rages
I'm a fashion expert – 8 tricks Kate Middleton uses to look flawless
Kate & Wills raise a pint for coronation & reveal how son, 9, feels about role
People are only just realising what wine gums are REALLY made of
The styling options are endless.
Shop our top quilted jacket picks
Damson Madder
Damson Madder's quilted jacket is super chic, and a more feminine spin on the stylish trend.
This design not only features the quilted detail, and floral print detail, but it also boasts a shoulder padded detail, and bow tie front fastening.
The rose print in a soft pink hue will add a touch of colour into a simple outfit.
Damson Madder cotton quilted bow front jacket in chintz rose print, £100 from ASOS – buy here
River Island
The one colour block textured jacket is a great way to venture not the trend for those who are not quite converted to adding print and bold colours into their wardrobe – yet.
This creation has embroidered detail, which adds the bohemian look, and can be paired with simply everything.
Cream Embroidered Trophy Jacket , £59 from River Island – buy here
Fatface
FatFace has a stunning Floral Quilted Jacket you will not want to miss out on this season.
It's super lightweight, yet the paisley print adds an added edge to the simplest of outfits.
What we love about this number is the attention to detail in the form of the piping edge on the hem of the jacket, as well as the vented detail on the side of the body of the jacket and sleeve.
Pure Cotton Floral Quilted Jacket, £69 from M&S – buy here
Sezane
Sezane is a firm favourite fashion brand many love, although it may be on the more affordable end – it is well worth the investment.
This number is perfect for those who want to invest in a spring/summer wardrobe, full of bright colours, and fun patterns.
This features front button fastening, as well as two front pockets.
We love the contrast pattern detail on the front centre, to the main body of the jacket.
Isaiah Jacket, £165 from Sezane – buy here
Free People
For those in search of a bohemian quilted jacket, look no further.
This chic design is exactly what your wardrobe needs, and we can't get enough of it.
Free People know how to nail the bohemian look with all its creations, including this quilted jacket, which is giving us major vintage vibes.
It boasts a boxy fit, has puff sleeves, which combined with the deep rust hues and contrast pattern, ticks all the boxes we want when shopping this look.
Llani x FP Iris Quilted Jacket, £140 from Free People – buy here
Albaray
Albaray has an impressive quilted jacket to shop in the form of this vibrant patterned textured jacket.
The red colourway, combined with the quilted texture, and contrast print, makes this a must have.
We also love the button fastening, which is super delicate and a fun twist on the usual button fastening.
This is made from 100% responsibly sourced cotton, which means this is super luxe feel, soft on the skin, but also perfect for the eco-conscious shopper.
Red Mix Print Jacket, £110 from Albaray – buy here
Boden
Boden is a brand loved by members of the royal family, especially Kate Middleton.
This design may not be quilted, but it is textured, and super vibrant, with the luminous yellow thread, combined with orange, and blue stripes running through it.
It features a round neck, button front fastening and slight slouch sleeve.
Textured Button Jacket, £150 from Boden – buy here
Hush
Hush is another firm favourite brand many love, including us.
The Andy Quilted Printed Jacket, is simply stunning, and not too overwhelmingly bright, which the faint hearted may prefer.
As well as the classic round neck, button fastening, this design has slightly fluted sleeves, which makes for a relaxed fit.
Andy Quilted Printed Jacket, £129 from hush – buy here
Monsoon
We can't get enough of Monsoon's Quilted Jacket, as it is vibrant, floral print, and we could , quite happily, wear it everyday.
It has been created using Lenzing Ecovero, which is a sustainable fabric made from renewable wood using eco friendly sources.
The eco-conscious design has a round collar, boasts a boxy fit, and straight sleeves with a raglan-like shoulder for a more relaxed look.
It features a collection of floral prints and patterns, which we love.
Ditsy floral and ikat print quilted jacket in lenzing™ ecovero™ orange, £125 from Monsoon – buy here=
Whistles
Whistles' Quilted Jacket is a must shop, and a timeless classic.
It's a great purchase for those looking for outerwear to wear every season, for any occasion, and year after year.
It's also a great way to ease your way into the trend, as black is a timeless colour and goes with any outfit.
Whistles quilted jacket, £99 from ASOS – buy here
This trend is a subtle nod to the seventies, so why not take more style inspiration from the cast of Daisy Jones and the Six?
Read More on The Sun
Eight freebies and discounts you can get on Universal Credit worth thousands
Driver warning – speed camera myths that drivers always get wrong
Complete the look with an on -trend pair of New Balance trainers. 
Going on holiday? Here are 17 stylish swimwear pieces to buy now for summer.
Looking for more stylish savings at your favourite fashion chains? Visit Sun Vouchers where you'll find amazing discounts and voucher codes for hundreds of fashion retailers including ASOS, Very, River Island, Roman Originals, New Look and more.
Source: Read Full Article