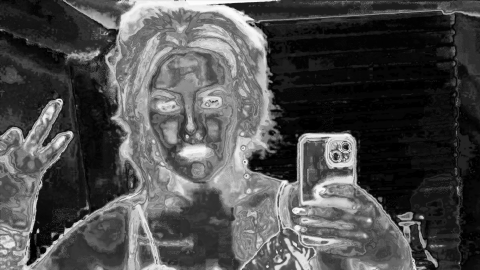 A BRIDE has been praised for being real after sharing a hilarious 'after' wedding selfie.
Jade McBride, 32, was immaculate and glowing as she tied the knot with groom Michael, 34, at the Busby Hotel in Glasgow over the weekend.
But it was a different story for the hungover mum of five after a night of partying and celebrating with her new husband and loved ones.
And instead of posting glam wedding snaps the next day, down-to-earth Jade decided to share a honeymoon suite selfie when she woke up instead – with hair, makeup and earrings still in place from the day before.
Captioning the picture, Jade said: "Big shout out to all the gals who got married yesterday hope ya'll are as f****d as me today."
In the snap, the worse-for-wear bride gives the peace sign in her wedding pyjamas, with hair still loosely in its up-do and smudged makeup mostly intact.
The image is worlds away from those taken just hours earlier as she looked pristine and smiling in her wedding dress.
Jade told the Record: "I posted the picture just for a laugh as I'm not a serious person at all and I just found it funny.
"I looked good before I looked sh***."
Her post has racked up more than 1,000 likes with other brides loving her unfiltered realness.
Most read in Fabulous
'HE'LL BE MISSED'
NCIS & Man From U.N.C.L.E. 'gentleman' star David McCallum dies aged 90
HEART TO HEAR
S Club 7's Paul, 46, died of 'hidden' disease – 4 signs you must not ignore
shop floored
Halfords manager attacked by thieves BLAMED by firm for trying to stop them
SANCH-NO GO
Sancho 'banned from all Man Utd facilities including CANTEEN' after Ten Hag row
One said: "Omg hilarious but true. We should start something like those perfect first day at school pics versus end of the day pics.
"Wedding day pics after hair and make up etc versus dragged through a hedge next day pics."
A second insisted: "This is class! You still look amazing! We need a new group 'The real Brides of Scotland'."
A third wrote: "Your brows are still perfectly intact! Hope you had the best day."
Meanwhile, a fourth added: "Best way to look the day after you get married! Congrats."
Source: Read Full Article