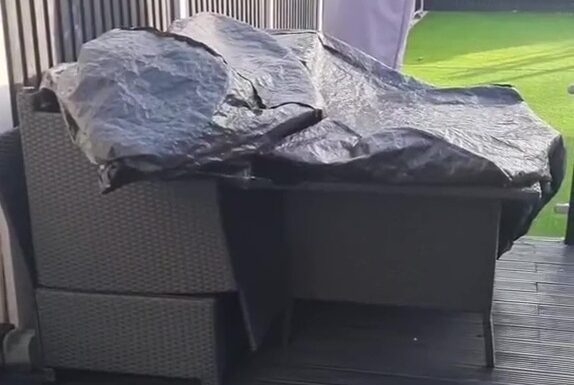 WITH the wind picking up, it's fairly likely that you've had to battle with the plastic sheets covering your garden furniture.
But one woman has come up with a genius hack to keep the covers firmly in place – and it only set her back £4.
"There's nothing more annoying than having to re-cover your furniture due to the wind always blowing it away," Casey raged in her TikTok video.
"The amount of times I've had to do this over the past couple of weeks is an absolute joke."
So, she decided to look into different ways she could prevent it from happening again.
"I ordered these bungee cords off Amazon, and they're really strong and flexible," Casey continued.
Read more Life Hack stories
NAILING IT
My hack for dogs who hate having their nails trimmed has made life easier
HACK IT
Mum-of-4 shares 9 tricks to save cash & time – and everyone can use them
"You just clip them together to make them as long or as short as you want.
"Then you just tie them around your furniture and it holds it in place".
She used four of the bungee cords to secure her cover.
They come in a pack of 10 for £9.99, so are around £1 each.
Most read in Fabulous
FINE LINE
I thought I was dying and docs tested for cancer – the ugly truth behind Botox
LISTEN UP
The 5 signs you should get a divorce – it's bad news if you've lost interest
HELPING HAND?
Influencer walks into Sainsbury's to do 'good deed' & sobs when it backfires
MYSTIC MEG
A surprise meal, or gift of food, is a tasty romance marker for Taurus
"Now I'm pretty confident that this cover is going to stay exactly where it should," Casey concluded her video.
"If only I knew this sooner, I wouldn't be chasing the garden furniture cover around the garden most days," she wrote over the top of the clip.
People were quick to comment on the video, with one writing: "I've just ordered bungee cords for this exact same thing!"
"Such a fab solution lovely!" another added.
"Omg this is amazing! Thanks for sharing!" a third praised.
"I use them on furniture and also on the wheelie bin lids – saves losing all the cardboard down the street etc," someone else said.
With Casey replying: "Yes, I use them on my bins to to stop them falling over when empty."
But not everyone was impressed with Casey's video.
"It's common sense really hunni," one wrote.
As another added: "Everyone's been doing this since the 1800's
READ MORE SUN STORIES
YOU SEE ME ROLLING
Mum 'hides' rollers from airport staff to hit Benidorm with 'huge' hair
STAR'S SPLIT
TV bosses hope Christine McGuinness will open up on marriage split on new show
"Hahah you didn't invent this," a third commented.
To which Casey responded: "I didn't say I did – solution doesn't mean I invented it."
Source: Read Full Article