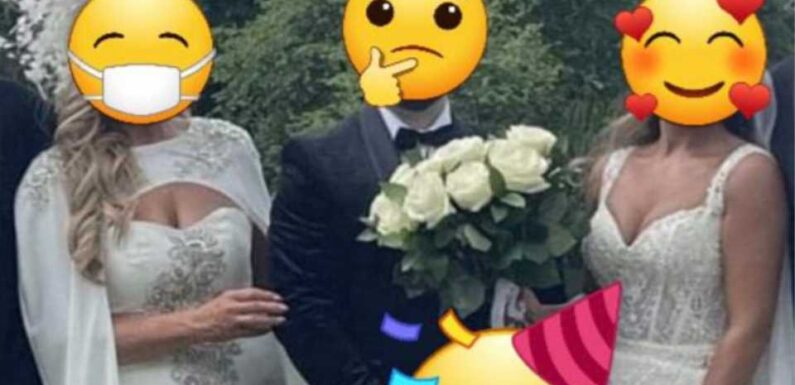 A MOTHER-of-the-bride has raised eyebrows with the choice of outfit worn to her daughter's wedding.
She seemed to have given no thought to traditional wedding attire etiquette when deciding what to wear for the big day.
The mother left many puzzled if she and her daughter had planned to have a double wedding after opting for a white dress.
The extravagant floor-length gown even included a veil and eye-catching fascinator which could've upstaged the bride.
A snap from the wedding was posted on Reddit after being spotted on Facebook.
"MOTB [mother-of-the-bride] in white! It literally looks like a double wedding to me…," read the post.
The photo shows the groom standing in the middle of his mother-in-law and the bride with a flower girl also dressed in white.
"The bride's dress is stunning and I hate how much the MOB distracts from it," one commented.
"She came in hot with the cape veil," a second said.
"That's literally a wedding gown…and the creepy hanging onto the groom is f**king weird too," another wrote.
Most read in Lifestyle
Michael Parkinson dead at 88 after entertaining millions over 50-yr career
This Morning star engaged after surprise proposal from boyfriend
BBC reporter announces 'IVF miracle' baby with adorable pic to fans
Britney Spears' husband Sam 'files for divorce' just hours after split
A fourth quipped: "I honestly could not figure out which one was the bride in this pic (before noticing the veil) as the way they're all standing sure doesn't give any indication. 
"Bit concerned mom may go after son in law considering she does look like she wants to be the one marrying him. 
"If I was that bride this WOULD NOT have happened!!"
"She wore white AND a cape AND two birds worth of plumage on her head! This is not a situation about just color. 
"She is legit disrespecting the bride and trying to be the main character.
"This poor bride! My heart goes out to her," another added. 
Others tried to defend the mother-of-the-bride with claims that their own mother wore white at their wedding.
One said: "Sometimes the bride asks. I asked my mom to wear white… 
"The rationale was that she never had an American wedding, she wore red to hers and I thought it would be special to have her wear something white for once for the occasion. 
"That said this looks like a traditional American family to me LOL but it's very rare a bride doesn't know what her mom is wearing."
"I notice that in some places it is custom for the bride and MOB both to wear white / similar gowns. 
Read More on The Sun
Strictly's Giovanni 'gives away' celeb he's dancing with after fans 'spot clue'
Mum-of-22 Sue Radford reveals major setback whilst on 18th holiday in 20 months
"Like the flower girl and junior bridesmaids wear white.
"I know in some cultures that the whole wedding party wears white, not just the bride," another commented.

Source: Read Full Article