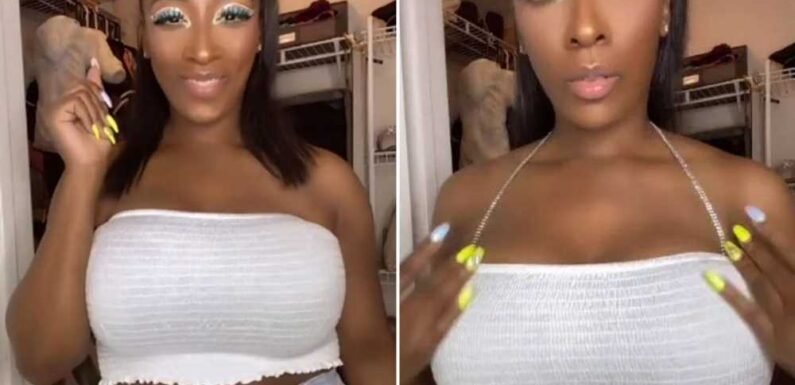 IT can be difficult to find stylish tops that fit, but look a bit sexy, when you've got bigger boobs.
But one woman has been labelled a "genius" after sharing her £2.50 hack for turning any top into one that suits her curves.
Kristen took to TikTok to post the top trick, explaining that she uses it so that she doesn't have to limit herself and what she wears.
"Do you have a bigger bust?" she began.
"Stop limiting yourself from wearing this one-shouldered top, this off the shoulder top, this strapless top."
Instead of chucking the skimpy tops away, Kristen uses clip on rhinestone bra straps.
Read more Body Shape stories
I have big boobs & people accuse me of being 'sl***y' & I'm always dress-coded
I did a Primark gym haul, their sports bras are perfect for big boobs & just £5
Not only do they help to make the top more supportive, they also turn an ordinary one into something a whole lot more glam.
"These straps are very versatile and you can turn any top into a more upscale top," she said, adding that you can wear them with tops, or even dresses.
"They're perfect for any bust size," Kristen concluded.
"Big BUST? STOP Limiting what tops you wear! Try this," she added in the caption.
Most read in Fabulous
Mum-of-22 Sue Radford reveals major setback whilst on 18th holiday in 20 months
Stop trying to rescue a project and consider restarting
Inside Meghan & Harry's new friendship group after Beckhams bust up
Harry makes statement about family in trailer for 1st Netflix show without Meghan
And people were quick to praise Kristen for the clever hack, with one writing: "My mouth dropped!!! Never thought of this lol!"
"Yassss!! There's always a solution for something," Kristen replied.
"I've been using these for all types of tops and styles."
"Thank you for helping us all out," another added.
"Wow. thank you for this!" a third commented.
"Life saver," someone else wrote.
As another added: "OMG OMG OMG".
"Omg this is genius!!!!! A must have for us busty gals!" someone else raved.
"You are a genius. That is too cute," another agreed.
"I'LL TAKE 10! WHERE CAN I BUY?" someone else asked.
Read More on The Sun
Strictly's Giovanni 'gives away' celeb he's dancing with after fans 'spot clue'
Mum-of-22 Sue Radford reveals major setback whilst on 18th holiday in 20 months
To which Kristen revealed she'd actually got hers from Amazon.
However, on Temu the straps are just £2.47 – meaning the hack won't break the bank either.

Source: Read Full Article