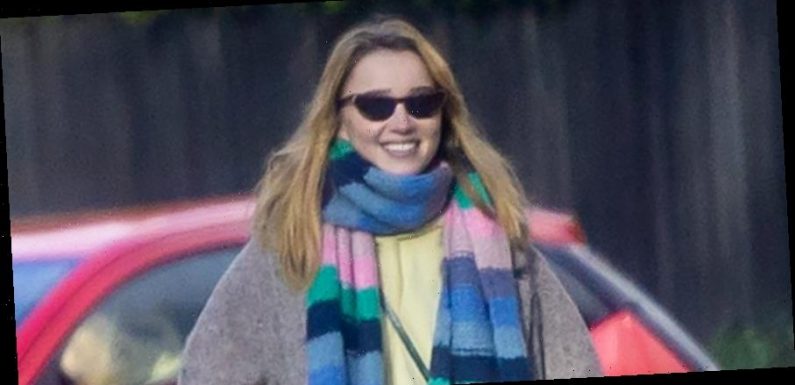 They say Netflix's runaway success, Bridgerton, caused a corset shortage, which might explain why breakout star Phoebe Dynevor was recently spotted in the most antithetical outfit imaginable. With bustiers and empire dresses ostensibly in limited supply, Dynevor swapped her on-set Regencycore aesthetic this weekend in Manchester, England for what's become the de facto celebrity outfit: matching sweats.
Most recognizable in the show's fussy, decidedly un-WFH-friendly wardrobe, Dynevor's cheery yellow loungewear set marks a new era for her public-facing style. Dynevor joins the ranks of Selena Gomez, Elsa Hosk, Florence Pugh, and a sleeper train of other zeitgeisty celebs not only in her shotgun ascent to on-screen stardom, but in her gravitation toward New York-based brand Frankie Shop, the source of her exact sweatshirt and sweatpants set.
Virtually every single A-through-Z-lister has given into the sweatsuit's siren song at some point over the pandemic year, with everyone from Jennifer Lopez to Sarah Jessica Parker saying "F* it, the sweats stay ON." The huge spike in popularity has meant you can now shop the style at every price point, from high-end designer to double-take affordable.
Shop Affordable Matching Sweatsuits
PrettyGarden Women's Solid Color Two Piece Outfit, $34
Eurivicy Women's Solid Sweatsuit Set, $38
Actloe 2020 Womens Tie Dye Printed Pajamas Set, $38
Linsery Women Hoodies Tracksuit, $30
Sukiyaki Women Jogger Outfit, 15
In fact, off-duty Daphne Bridgerton's whole outfit was an expert composition of accessible, affordable pieces with cool-girl cache. Her ultra-versatile wool-blend coat comes from Mango — a brand also loved by Lily Collins, Sophie Turner, Katie Holmes, and Emma Roberts — and costs just $150. Her comfortable, sporty suede sneakers are classic $80 Adidas (Dakota Johnson and Kristen Stewart own this exact style). And her colorblock scarf, while not yet ID'ed, looks just like this style that's as little as $20.
Do we love it, are we here for it, do we burn for it? Entirely, absolutely yes. Shop Phoebe Dynevor's exact outfit below before the Bridgerton stans snatch everything up.
Frankie Shop Vanessa Cotton Jersey Sweatshirt
Shop now: $171; mytheresa.com
Frankie Shop Vanessa Cotton Trackpants
Shop now: $164; mytheresa.com
Mango Textured Wool-Blend Coat
Shop now: $150; mango.com
Adidas Originals Gazelle Foundation
Shop now: $80; zappos.com
Source: Read Full Article