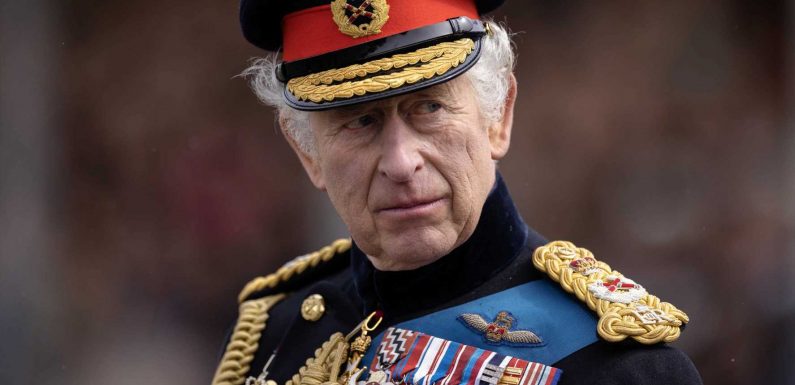 CANADA has quietly changed King Charles' title and any reference to the UK in it amid fears some realms may move to axe the monarch after the Coronation.
The move has been hailed as "very significant" in Canada which is one of the 14 countries outside Britain where Charles is Head of State.
It comes as ex-Archbishop of Canterbury George Carey told a new five-part series the late Queen Elizabeth II told him "I can't resign".
But a government bill announced yesterday revealed they will no longer include the phrase "Defender of the Faith", and delete mention of the United Kingdom in his official royal title in Canada compared to the late Queen's title.
Richard Deacon, retired Archdeacon of the Diocese of Saskatoon, said: "I think it is very significant. It's a historic departure from tradition."
Annie Cullinan, director of communications for the King's Privy Council in Canada, said: "As we prepare for the coronation of the new monarch, a decision was made to modernize the title to bring Canada in line with other Commonwealth countries, including Australia."
READ MORE ON THE ROYALS
Meghan hopes her coronation decision 'will be seen as unselfish' by King Charles
Harry 'will miss key coronation event' as he rushes home to be with Meghan
The term 'Defender of the Faith' has been bestowed on every monarch since Henry VIII was first given the honour by the Pope 502 years ago.
His new title will read: "Charles the Third, by the Grace of God King of Canada and His other Realms and Territories, Head of the Commonwealth."
The late Queen was known as "Queen Elizabeth the Second, by the Grace of God of the United Kingdom, Canada and Her other Realms and Territories Queen, Head of the Commonwealth, Defender of the Faith."
Claims that the King will swear an oath to be defender of all faiths at the Coronation have been dismissed.
Most read in Celebrity
I've survived worst days of my life & it's taught me so much, says Myleene
Has Hollywood had its fill of filler as stars turn their back on Botox
Pregnant Paris Fury shares 5-year-old Valencia's mani as they enjoy girlie day
Meghan hopes her coronation decision 'will be seen as unselfish' by King Charles
There are claims of friction with Lambeth Palace over the King's desire to include more faith groups at the ceremony – which have also been downplayed by royal sources.
Barbados ditched the Queen as Head of State 18 months ago and similar calls for republicanism are growing in Jamaica and Bahamas.
A new five-part ITV series The Real Crown: Inside the House of Windsor retalls the moment the then-Archbishop of Canterbury announced he was stepping down.
Lord Carey says: "I remember going to see the Queen once to hand in my resignation and said: 'Your Majesty the time has come.'
"And she looked at me, more or less she said: 'You people come and go, I can't resign, I can't surrender – I've got to keep going'.
"And I said: 'Well, the Lord tells me at the age of 70 I've got to go.' But she would never go anyway."
Lord Carey served as Archbishop of Canterbury from 1991-2002 and during his period in office took part in the funeral of Diana, Princess of Wales in 1997 and became the first Archbishop to ordain women to the priesthood.
He also reveals how the Queen Consort talked about the earliest days of her relationship with the King during their secret meeting in Peckham.
He said: "She walked through the front door, we met and had coffee together and I was really struck by her.
"Very nice looking lady, very presentable, very intelligent, we had a really animated conversation.
"And we talked about her relationship with Charles, going way back to when they were teenagers and so on.
"And after she left, I said: 'Well, there's no way I could ever treat her as other than a really nice human being who's deeply in love with Charles.'
Read More on The Sun
The Bill stars unrecognisable as they reunite after 23 years
Amazon Prime viewers receive a free upgrade – it'll boost your telly instantly
"And that affected me in talking to other people behind the scenes and I hoped it had a way forward – I think it did."
All five episodes of The Real Crown: Inside the House of Windsor are now available to screen on ITVX.
Source: Read Full Article