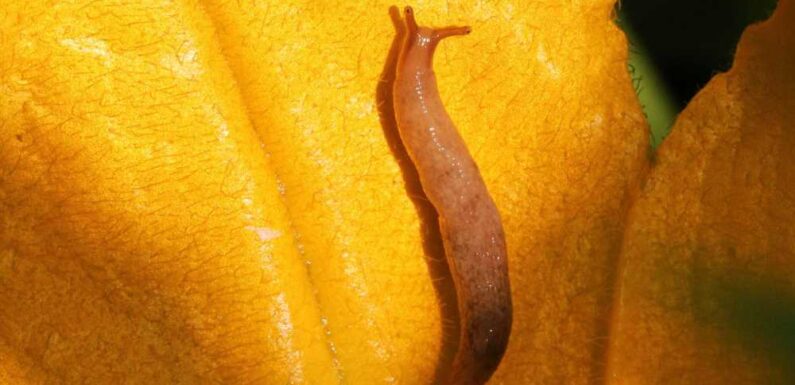 A GARDENER has revealed an accidental hack she discovered to stop slugs and snails from munching on her plants. 
Sam Elliot used a "medicated ointment" for colds and congestion around the base of her buckets and plant pots… and found that the slimy creatures hate it.
The green-fingered Brit took to Facebook group Veg Gardening UK to reveal her innovative gardening hack.
"I kind of accidentally found something that slugs and snails really don't like," she penned. 
"Last week, when putting out various plants in buckets, I went looking for Vaseline in my cupboards, but all I could find was an old tin of 'medicated ointment' like Vicks.
"Well, I brushed it around the buckets with an inch wide brush and I also enlisted the help of a nearby snail in testing.
read more on gardening
My partner has a free 'redneck' weed killer – it's not for the faint-hearted
My patio glow-up was such a disaster that I considered making it dirty again
"He did eventually cross the barrier but hasn't been seen in that spot since. 
"I just tried it with a slug by brushing a light coat in a square around it. 
"It didn't know what to do and turned in circles slowly."
Ms Elliot's ointment is an old school version of Vicks VapoRub, which she theorised would work just as well.
Most read in Fabulous
Harry 'wanted out' of the Royal Family years before meeting Meghan Markle
I was homeless after Cbeebies fired me for posing nude, says Sarah-Jane Honeywell
People are realising they've been using fans all wrong – here's how to do it
Passengers stunned after spotting 2 major Royals on economy flight to Heathrow
The Rawleigh ointment "for relief of colds, discomfort and congestion" is around 20-years-old.
To protect her plants and vegetables, she only placed it around the outside of the buckets.
The ointment didn't touch any of the greenery or compost.
"It's been in my meds box for 20 years," Ms Elliot added in the comments. 
"Little used, although I wouldn't now after it's been painted around my pots."
A small tub of Vicks VapoRub costs just £6 in supermarkets, and using five grams at a time means each use works out at 12p a pop.
"Olbas Oil or Tiger Balm would probably work then," one commenter weighed in. "Tiger Balm is two for £1.19 in Home Bargains at the moment. 
"Might have to buy in bulk and wipe round my pots of tender plants."
Read More on The Sun
Towie rocked by show's 'worst ever feud' that's left cast more divided than ever
The UK beach that's been compared to the Maldives with white sand & blue waters
"Anything with menthol or eucalyptus in works," a second added.
"If I were a slug or snail I wouldn't go near it either!" a third joked. "Suppository base and ceresin with menthol and camphor! Wow!"
Source: Read Full Article