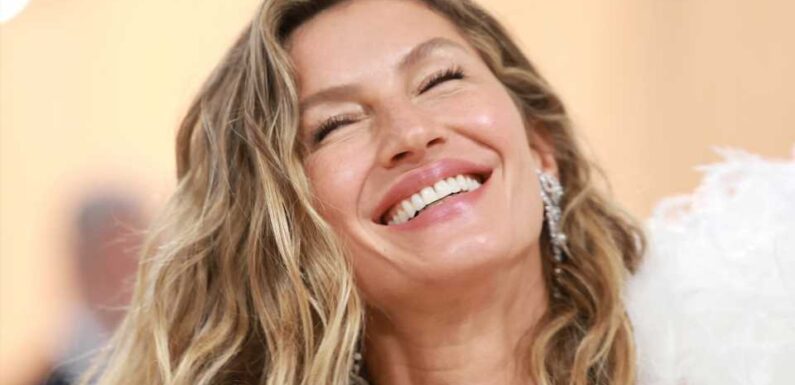 GISELE Bündchen's life was changed forever when her divorce from Tom Brady was finalized in October.
But eight months on, a psychologist has claimed that out of the two of them, it is the former NFL star who has ended up struggling.
When Gisele, 42, split with Tom, 45, she lost the love of her life, became a single mom, and moved out of her family home.
But after months of healing from heartache, Gisele appears to have it all.
Today, the supermodel's Instagram feed shows a world packed with fun-loving moments alongside family and friends, including time with her reported confidante, jiu-jitsu instructor Joaquim Valente.
Over the months, Gisele's modeling career and profile have also skyrocketed, including a recent photoshoot with the luxury fashion brand Louis Vuitton
In the Horizon suitcase campaign, the blonde bombshell sits on top of a suitcase at a beach resort in Miami.
A behind-the-scenes clip shows Gisele saying: "I don't know what's next on my horizon. I hope wonderful things."
In an exclusive interview, psychologist Jo Hemmings told The U.S. Sun: "Gisele shows no shred of bitterness in her posts, images, or in any of her recent amazing professional photoshoots.
"She authentically radiates happiness and looks completely fulfilled in her life now.
Most read in Celebrity
Titanic 5 feared dead after oxygen 'runs out' but robots offer hope of miracle
Dad 'killed daughter, 2, by smashing into lorry' as devastated mum shares tribute
Man hacked 2 people with PICKAXE at hospital before turning blade on himself
Rescue ships launch last-ditch bid to find Titanic sub before oxygen runs out
"Gisele is showing the world with outstretched arms and a beaming smile, that she is finally authentically happy.
"Gisele seems to be going from strength to strength in her modeling career.
"Her new Louis Vuitton campaign is phenomenal.
"Not only does Gisele just look like a model, but she looks like someone who is genuinely passionate and enthusiastic about the ad.
"Personally, whether it is paddle boarding with Joaquim or embracing nature, it is all done with authenticity and joy.
"Overall, Gisele and her new life look joyous and [it seems like she] is thriving as if she is over it all.
"Tom's does not. He looks gaunt and serious and as if he is simply surviving."
Gisele and NFL superstar Tom formally ended their 13-year marriage in October.
While their separation was "amicable," the pair went on to parent their two children Benjamin, 13, and Vivian, 10.
Tom eventually retired from football in February before buying a stake in the Las Vegas Raiders.
The seven-time Super Bowl champion also continues to promote his new activewear clothing line.
Recently, Tom was snapped on holiday in Europe.
While little is known about his personal life, the former quarterback was spotted at Le Mans and in Cannes socializing.
He was also photographed watching tennis at Roland Garros. Here, NFL fans commented that he looked super skinny.
Gisele, on the other, hand has been spreading her wings and branching out.
As well as modeling for the likes of Jimmy Choo and hitting the Met Gala, she has been immersing herself in climate activism.
Recently, Gisele joined the president and co-founder of VTEX Mar at alecture. She discussed the "challenges to conquer the world."
Gisele has also been spending more time with fellow Brazilian Joaquim of late.
Recently, the pair hit the water in Miami on paddle boards. Gisele looked relaxed in a black bikini and straw hat.
"Gisele is having the time of her life in all areas, " added Jo.
"But she has remained tight-lipped about romantically being involved with Joaquin.
"Via photos she has made it clear that he is a significant and dependable person in her life.
"Tom, by contrast, looks slightly awkward when he is with friends or out and about working.
"He shows these forced smiles and random shots of nothing very significant or personal."
She said Tom looks "a bit miserable," creating the "polar opposite" effect from Gisele's solo images.
"There is also the uncomfortable image of him on the yacht in Sardinia with Leo, Gisele's ex.
"He is not only quite a distance away from him in the group shot, but he also looks disengaged from all of the other guests.
"Tom sits some distance from the rest of his yacht mates."
Our expert notes that while Gisele has turned her life around, she has taken care of how she has done it.
"Gisele has not actually admitted to dating Joaquim – or indeed anyone else," added Jo.
"She continues to look stunning in every single shot she posts.
"If her aim is to show Tom what he is missing, she is doing it in a spectacular yet dignified and appropriate style.
"Even her showing herself playing with her children in the sand or casually lounging in the rainforest.
"A lot of her images are of her doing yoga poses as well. This indicates that she has found her path to fulfillment.
Read More On The Sun
B&M has slashed the price of its egg chair by £50 – it's the cheapest around
I'm a fit wife – I love sexy bikinis but trolls call me 'old & desperate'
"She has learned how to relax, unwind and mindfully live in the present.
"Tom and Gisele's lives now speak very different languages."

Source: Read Full Article