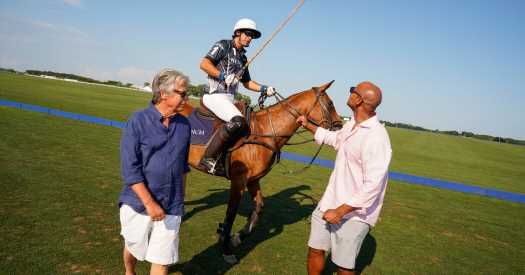 With the New York charity circuit on hiatus, here is how some philanthropists and society figures are spending their time and resources during the pandemic.
Nacho Figueras
Age: 44
Occupation: polo player
Favorite Charities: Sentebale, founded by Prince Harry to help children in Lesotho, Botswana and Malawi
Is Harry a friend of yours?
Mm-hmm.
What did you think of the Oprah interview?
That's a whole other story.
Where have you been staying?
I live between the U.S. and Argentina. I'm in Wellington, Fla., which is where the pandemic caught me last year. I went to the Hamptons in the summer and Virginia for a month and then September through December, Argentina. And as of mid-January I've been back here in Wellington. It's the places where I play polo and, for the most part, our polo circuit has been Covid protected, with no public and taking all the necessary precautions.
When was the last time you were in New York City?
February of last year. My wife and I are partners in a clothing brand called Àcheval and we were there for fashion week. She presented clothes.
What do you miss most about the city?
It's hard to believe that New York has gone on this kind of hiatus for so long, so I miss everything: the restaurants, the New York energy, which I trust will come back eventually. I don't want to believe that New York will never be the same. I doubt that will happen.
You're a globe-trotter. Will you travel less when this is over?
I probably will travel less because the world requires less traveling. There are things that can be replaced by a well-organized Zoom call. I went to a board meeting in Saudi Arabia last March and it took me five days to get there, get settled, go to the meeting.
When we did it this year, it took six hours and I did it from my living room in Florida. But if there's a polo match in Saudi or a polo match in Australia, I miss that interaction one thousand percent. I don't miss traveling 10,000 miles for a meeting.
What's it like to play polo without spectators?
It's hard. The energy is not there. We definitely suck in the energy when you have an audience that is really engaged and responsive.
How did your life change the last year?
My office is the stables and the polo field, and I travel around the world with my wife and children. I'm with them almost 24/7. They're home-schooled. So in that case, my family life didn't change much. But my business life changed quite a bit. And I think that's because everything in the business world happened more remotely.
Indya Moore
Age: 26
Occupation: actor, artist
Favorite Charities: Trans Law Center, New York Transgender Advocacy Group, Black and Pink, Brave Space Alliance, the Transgender District, Trans Lifeline
Where have you been staying?
I've been moving around a lot. I quarantined in Chicago, now I'm in L.A. I've learned a lot. The BIPOC liberation uprisings happened all around the world at the same time as the pandemic, and there was so much to show up for.
What do you mean by "show up"?
I was physically present for a lot of the uprisings, and I tried to help activists who had been arrested get released. I did some jail support out of Chicago for about a week. From home I was able to organize some fund-raisers. I managed a Covid crisis relief fund using social media and a cash app.
How's Los Angeles?
It's beautiful. I'm just trying to have fun where it's safe to, and in a responsible way. And rest. We're filming our very, very, very, very last day of "Pose," ever, here. So I expect it to be a really hard, or just complicated, moment, but I think we're all ready to rest.
I read that you teamed up with fellow activist Jane Fonda. What did you learn from her?
We had a great conversation, and we promoted her book that revolves around people taking more seriously the harm being done to our planet. She just seems so intensely dedicated to the preservation of our world, and it's just really beautiful to see her fight for that in so many different ways. She's really inspiring, and she taught me a lot.
When this is over, do you think we will enter a version of the Roaring Twenties, or is that just hype?
Yes! This is definitely another Roaring Twenties moment. I think we'll come out having learned something this time, and hopefully we don't continue to repeat the same mistakes under different names. I have so much faith in humankind and our capacity to grow.
So, are people about to let loose?
I hope so! I hope that this experience helped us to appreciate connection a little more, and in a different way. I think we take connection for granted because of the internet. And everybody thinks everything is happening on the internet, and it's not. So many people lost loved ones, also. There are a lot of people who are grieving, and still hurting, and are roaring in different ways, and not necessarily in a celebratory, excited way. So I'm thinking about that as well.
Alex Poots
Age: 53
Occupation: artistic director and C.E.O. of the Shed at Hudson Yards
Favorite Charities: International Rescue Committee, Black Lives Matter causes, Save the Children.
Where have you been sheltering?
Mainly in New York. I live on the Upper West Side. My wife's American and is from the Midwest, so we spent a bit of time over there, over the summer, especially with the kids and the holidays. But I got back here in late August.
What does Hudson Yards feel like these days? Have you seen tumbleweeds?
It just depends. Everything is quieter, but Chelsea is kind of opened up. The galleries have been open since September, and our museum gallery area has been open since October.
The Shed just reopened for indoor performances. Tell us about that.
The capacities are very small, but the fact that it's happening — the fact that New York is starting to reopen live performances indoors — is so important. Communing around a live show is something that I think we've missed terribly. I know I've missed it terribly. We are social beings at our heart. I think when people get back in, if they don't already know how much they miss it, they're going to be reminded that it's a deeply ingrained human activity.
What's been the most distressing thing about not having live, in-person shows?
As a former musician and a composer, it's been not being able to hear music live. It's fine listening on your hi-fi at home, but you miss the magic. If you go back to the dawn of when humans emerged, the one thing that humans do without any contact from others is that they make music.
If you want to get technical, there's this kind of pentatonic scale, with five notes. And as humans, no matter which part of the world we're born in, we make music in these five-note scales for ourselves, and for those around us. To not have that, I find is really upsetting.
What's the worst part about Zoom?
When you're trying to do something creative, there's nothing that beats being in a room with someone.
Interviews have been edited.
Source: Read Full Article