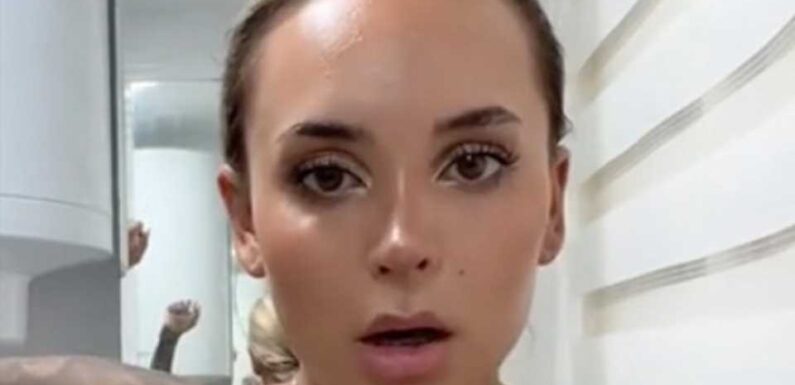 A FORMER tattoo enthusiast has shared her regrets about getting so much ink when she was younger.
She said she wished she had waited until she was 25 to make the decisions that would stay on her body for life.
Leah (@leahbbeth) expanded on her tattoo remorse in a video shared with over 40,000 TikTok followers.
The British woman explained that her full sleeves had seemed like a good idea when she was a teenager but she cringed at the sight of them now.
"You know when you were a teenager and you were like, 'This is not a phase mom, this is the real me?' It was a phase," she said.
The blonde lifted her right arm up to show off the full sleeve of tattoos from her wrist to her armpit: "I am a considerably heavily tattoed woman," she said.
The damage didn't end there, as she quickly revealed the sleeves on her stomach and legs.
Leah reflected on what she thought now to be the impulsive decisions of her youth.
"There really is something to be said about brain development and decision-making, when I tell you something just switched in my little head about one month before my 25th birthday," she said.
She had the epiphany one day that the tattoos were a big mistake as she did not feel connected to them.
Most read in Lifestyle
Moment jet carrying Putin's Wagner enemy is falls from sky before exploding
Man dies after incident at tourist attraction as it's forced to close
Corrie actress to wed co-star TODAY in Cotswold wedding after whirlwind romance
World Cup hero Georgia Stanway breaks silence on FA airport blunder
"I am cringing the eff out about the majority of my tattoos, most of them do not bring joy, they have no meaning or representation in my life," she explained.
Leah said she wished that someone had warned her about getting so much ink when she was younger as her motivation was rarely self-serving.
"I think I was looking for a sense of identity and outward validation from other people, I just don't feel like at this point in my life, that I crave that attention and validation anymore," she said.
She explained that she was looking into getting her sleeves removed as she didn't feel "at home" in her skin anymore and offered advice to those who were interested in getting ink done.
"My advice to you is to wait until you're older than 25 to get tattoos or make any changes to your body," she warned.
Many thanked her for the foresight and agreed that tattoos shouldn't be a rash decision.
"Yes yes yes yes yes and this does not go for just tattoos. Under 27 to me is still a kid in so many ways," said one commenter.
"I am 37. The only one I regret is the one I got when I was 18. My others were done in the last few years," said another.

Source: Read Full Article