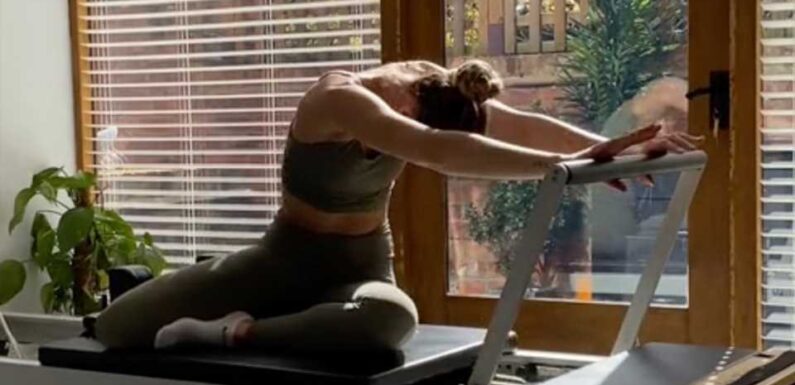 A BUSY mom has revealed how she stays in shape without a pricey gym membership.
Catherine Hudson (@_CatherineHudson), who has over 10,000 Instagram followers, juggles her busy modelling career with looking after her toddler son Jax.
She took to TikTok to show how starting her day with a home workout on her reformer pilates machine helps to keep her fit. 
The eye-watering price of the exercise equipment starts at around $900.
Catherine's followers admit they are desperate to have their own machines.She told them to look for local reformer pilates classes if they want to try the workouts for themselves.
"It's taken me a while, but I'm finally feeling like myself pre baby," she said.
She has managed to maintain a svelte figure despite her workouts sometimes being interrupted by either her toddler Jax or their dog Hunter. 
Catherine's pilates videos have racked up hundreds of views with demonstrations of how to do both upper and lower body exercises.
"It's honestly the best workout," Catherine said. 
She donned a grey sports bra and matching leggings for a glute and hamstring session, finished with some core work.
Most read in Health And Fitness
Big high street shop to shut store for good in hours in new wave of 100 closures
Radio legend Chris Evans, 57, reveals he's been diagnosed with cancer
Spain's World Cup goal ace tragically learns of dad's death after lifting trophy
Massive nineties boyband set to reunite for film & first new song in 22 years
"Obsessed," one person commented.
"Body goals," another said. 
The workout came after a heartwarming day in the life video narrated by her husband Nathan Baker. The couple tied the knot last year. 
"We're gonna make the bed and start the day with some cereal," Nathan said.
He showed a card to Jax before the clip switched back to Catherine. 
"Oh mommy is getting ready. She's doing a little makeup tutorial," he said.
The dad continued to narrate their morning, which included mommy getting ready and taking Jax to nursery.

Source: Read Full Article