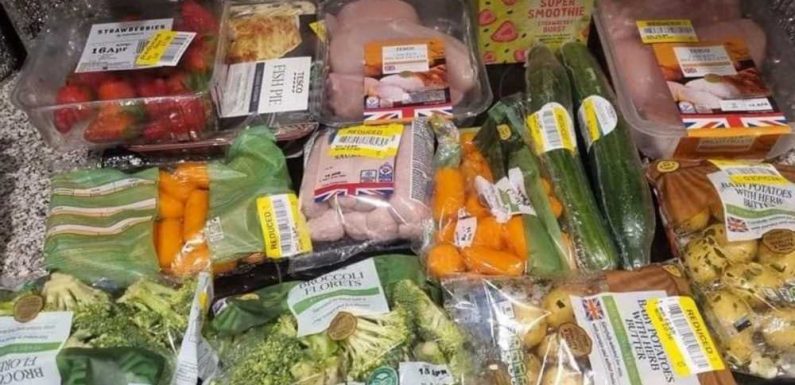 A WOMAN was able to bag over a week's worth of dinner for less than £10.
Katie was thrilled with her bargain buys and revealed how she found them on Facebook.
The mum-of-two disclosed that it was all down to luck as she went food shopping over the weekend.
Posting to the group, Yellow Sticker Society, she penned: "Dinner for a week for less than a tenner! Can't complain."
Katie accompanied the post with a snap of her Tesco food haul, which she revealed would last her ten days' worth of dinner.
In the giant food haul, she bagged two giant bags of chicken breasts, a fish pie, and a pack of sausages.
READ MORE ON FOOD
Mum shows off 'lazy' dinner costing 84p a portion but trolls say it's 'illegal'
I found a way to get the best bargains & nabbed 25kg of snacks for a mega steal
The mum also found lots of veggies to pair with the meat for tea time, including two bags of carrots, two bags of broccoli, and two packs of pre-seasoned new potatoes.
Alongside her meals, she also bagged a punnet of strawberries, two cucumbers, and a box of smoothies.
She managed to get the haul for less than £10 thanks to yellow-sticker discounts.
Yellow-sticker items often become available in the early evening at supermarkets and allow people to buy food that will soon go off for a bargain price.
Most read in Fabulous
Mum-of-12 slammed for having so many kids & living in poverty poverty hits back
Shopper finds Louis Vuitton in TK Maxx but everyone's saying the same thing
Woman starts a multi-million business with just £250 – & here's how you can too
My patio looks brand new thanks to a £1 bargain buy
Members of the group were quick to congratulate the mum for her bargain finds, which she put down to luck and being in the right place at the right time.
One person wrote: "Oh well done hunni! Enjoy your food during the week!! Great stuff!"
Katie replied: "Thank you. I normally only get the odd bit here and there but over this weekend I've manged to get 10 days' worth of dinner and stuff.
"Definitely been in the right place at the right time."
Another commented: "Well done, some amazing bargains!… Enjoy hun!"
"Thank you hun just had a lucky weekend right place right time," Katie replied.
"That's awesome," penned a third.
Meanwhile, a fourth wrote: "Good healthy stuff too," and Kate agreed, writing: "Yeah lots of proper food to make some lovely homecooked meals with."
"Well done you," praised a fifth.
Source: Read Full Article