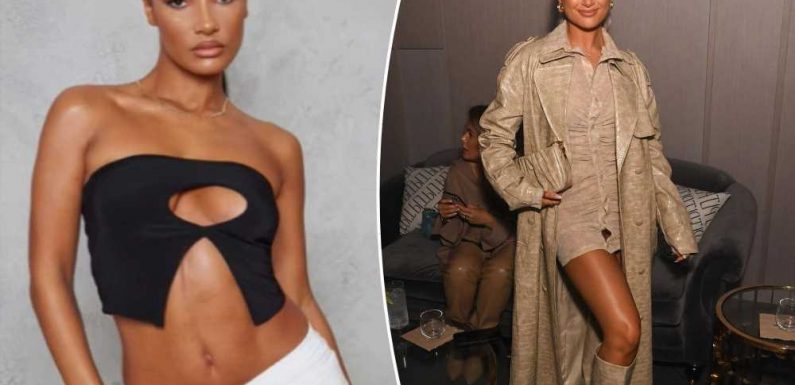 A TRENDY fashionista was mortified after seeing the poor quality of a white skirt she had ordered from the fast fashion giant PrettyLittleThing.
Unfortunately, cheap garments come at a price – and one style lover, Keila (@notkeilaf) learnt it the hard way.
Looking to give her wardrobe an update, the young woman decided to check out what's new on PrettyLittleThing.
There, amongst thousands of garments, she stumbled upon a white slinky mini skirt that retailed for just £6.
Not one to sleep on a bargain, Kaila – believed to be from the UK – immediately bagged the skimpy piece of clothing.
However, once it finally arrived, the shopper was mortified at the poor quality and took to TikTok to share the disastrous fail.
read more on fashion
Woman mortified after her Shein haul leaves her looking like a sack of potatoes
I was disgusted my chunky boots from ASOS came with two distressing extra items
''Bought this skirt from PLT just for it to be the worst quality I've ever seen.
''A plastic bag has better material,'' she exclaimed in the video.
Demonstrating just how see-through the little number was, Kaila added that she should've done her shopping at Shein, one of Molly Mae Hague's main rivals.
Fellow fashionistas were just at stunned at how easily you could see the tags peeking through and many flocked to comment to share their thoughts.
Most read in Fabulous
My work sent me home for violating the dress code – I'm too 'distracting'
I never wear a bra but it's so gross when pervy men stare – – it's unacceptable
Mum-of-13 who has 8 different baby daddies says people always judge her
Pro piercer reveals the four piercings everyone should steer clear of
''Sheins [Shein's] better quality at this point,'' one style enthusiast agreed.
One person saw the clip just in time, writing: ''was just about to buy this ffs the state.''
FABULOUS BINGO: Get a £20 bonus & 30 free spins when you spend £10 today
''I've got the same one in black, it was so short and thin,'' a fast fashion fan revealed.
''i bought my white skirt on shein and it's thick quality and not see through at all,'' someone else recommended.
This is not the first negative customer experience that's gone viral – one shopper was left looking like the binman after ordering an orange coat from the site.
Cerise Lynch shared the video on TikTok, alongside caption: ''PLT at it again.''
According to her, she was scrolling on Pretty Little Thing trying to find new fits that would make her ''a bit edgy and cool''.
One of the items that caught her eye in the spree was a long, orange coat, which the shopper decided to order.
However, what arrived, despite being the same colour, looked nothing like the promoted photos and had an odd fit.
''Do you need your bins collected, hun?
''Please exit here, here and here,'' she went on to demonstrate, adding she looked like an EasyJet air hostess.
The mortified shopper even found a striking resemblance between the new coat and a scarecrow: ''Did anyone order a scarecrow or what?''
''PLT are so trash,'' is how one viewer described the fast fashion giant.
Read More on The Sun
Tesco has made a big change to loo roll – and customers are not happy
I'm a traveller & my easy 80p Dunelm hack gets grimey windows sparkling clean
Another user commented: ''THIS IS YOUR PILOT SPEAKING.''
''best tiktok I've seen all day,'' someone thought.

Source: Read Full Article