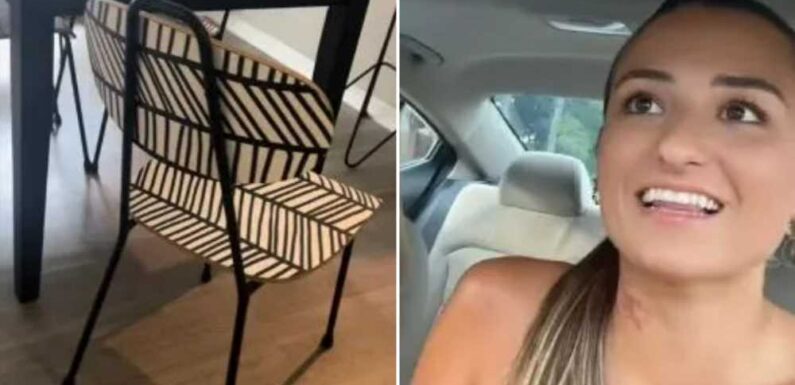 A WOMAN who bought a "cute" set of chairs was shocked when she discovered where they were from – three years later.
Marlie Tressler stumbled across a video taken from inside McDonald's and suddenly spotted her own chairs.
She quickly realised her furniture had been stolen from the fast food chain after paying $100 for four.
In a video shared to TikTok she said: "Three years ago I bought these chairs off of Facebook Market Place and immediately the guy down his Facebook page afterwards so that was a red flag.
"But, I thought they were cute and I always wondered where they were from.
"And this is what I saw last night in a McDonald's."
Read More
I ate Hamilton's vegan burger & they take pole position over McDonalds
I transformed my boring kitchen for £100 using Facebook Market bargains
The TikToker then showed footage inside the fast food chain which revealed the identical chairs.
"They were stolen McDonald's chairs", she laughed.
"McDonald's I will kindly return these stolen artefacts to you, I do apologise I know you've been spiralling out of control missing these chairs – look to further they're in my home", she joked.
People found her story hilarious, one commented: "I'm glad I'm not the only one omg! I have Starbucks outdoor patio chairs lol!"
Most read in Fabulous
I want to tan peacefully in my backyard but my neighbors are always watching
Mum shares tip so you can leave your paddling pool out overnight & keep bugs away
Mum-of-four hailed as 'iconic' for making tiny lifestyle changes to shed 7st
I'm plus-size & did a huge Matalan haul for summer
Another penned: "Stop this is so funny."
"At no time did I have any idea where this story was going. Not once. This is great", agreed a third.
"Girl keep the chair. I'm sure they have a budget for things like that haha, plus you paid for them!" Added someone else.
This comes as other people have been scammed on Facebook Marketplace.
One woman was tricked while trying to buy Taylor Swift concert tickets on the forum.
And, Marketplace users are being warned over a dangerous message that could rinse your bank account.
Buying safely from Facebook Marketplace
It's always best to meet in person when buying or selling on Facebook Marketplace.
Ensure it's a public meeting spot that's in a well-lit area.
Avoid payment links and log in directly through the payment method's website.
Most sellers prefer to deal with cash directly when meeting to ensure it's legit.
Spotting a scammer on Facebook Marketplace
It's always a good idea to take a look at the person's profile as this could have some tell-tale signs.
Check the date the account was created.
Read more on The Sun
I love catching a topless tan in the garden – my neighbours gawk and complain
Celeb MasterChef 2023 full line up with Emmerdale actress and Love Island stars
Facebook launched in the UK in 2005, so most people will have accounts that date a few years back.
If the account contacting you was created very recently (in the past few weeks or months), you should approach with caution as this could show that it has specifically been created to scam innocent people.

Source: Read Full Article