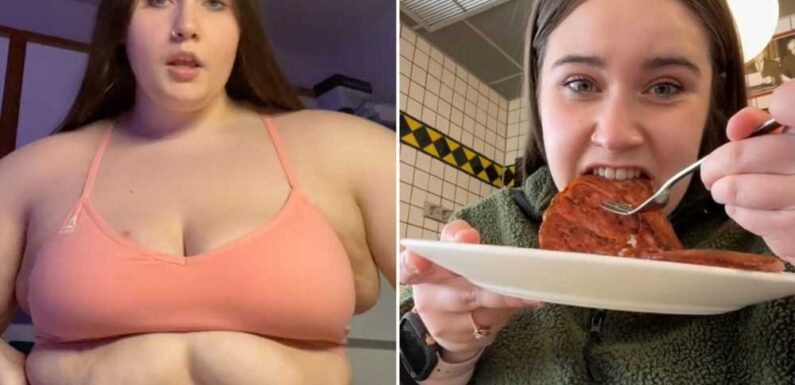 A SELF-DESCRIBED "fat" woman has shared her anger at people who try and tell her what to eat when they go out for dinner.
Mak considers herself a "fat positive" person, who does her utmost to promote body acceptance and positivity on her social media pages.
And while she's perfectly happy with her body, and proud of her curves, she still finds herself targeted by people trying to "help" her.
"I am fat," Mak wrote over the top of her video.
"You asked me out to eat. I said 'sure'. So I ordered what I wanted. You said, 'You shouldn't be eating that'.
"I said, 'I'll eat what I want thanks!' You said, 'I was just trying to help'. What?
Read more Body Shape stories
I'm plus size & would wear my swimsuits out every day – hot girl summer is here
I'm a plus size girl – people say I look like a whale, I don't care
"You're body positive, an ally for fat liberation. But your whole world view collapses the moment a fat woman is happy with herself.
"S**t like this brings the body acceptance movement down.
"Everyone's body positive until a fat woman is happy with herself."
Mak captioned her TikTok: "Unless a fat person asks for help, don't.
Most read in Fabulous
Meghan's podcast is AXED by Spotify 'with her & Harry to miss £18m payout'
Millie Radford shares ultrasound as mum Sue pays tribute to 'beautiful girls'
I hate tan lines so wear skimpy bikinis but my mum thinks I look like a w***e
I want to tan peacefully in my backyard but my neighbors are always watching
"Not that hard."
The comments section was quickly full of people having their say on Mak's video, with one writing: "Just don't comment on what people eat.
"No matter their weight it's so easy you wouldn't believe it!!"
"I couldn't have said it better myself," another praised.
"This is why ive never went out to eat with a friend. Im too scared ill have that experience," a third commented.
As someone else wrote: "you should be able eat whatever you want, you are beautiful."
"Sometimes want a salad and sometimes I want a cheeseburger, fries and a milkshake. Let me be. Either option is fine," another raged.
Source: Read Full Article