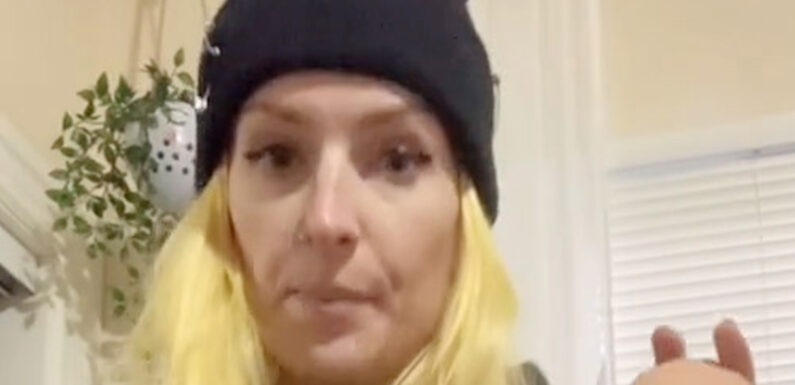 A DETERMINED woman has revealed how she tricks the world into thinking she has a bit more of a booty than she does.
Boob tape is her secret weapon, and the simple item makes her one-stop booty shop possible.
"This is absolutely wild, but if you currently look like this and you want to look like that, pay attention, I got you girl," the woman (@dummythiccdemonthot) said in her TikTok video.
She was referring to a picture in which her bum wasn't poking out as much in a pair of black biker shorts.
This was compared to her end goal, a picture in which Kim Kardashian had on a black leather dress, her infamous butt the highlight of the image.
In the next clip, standing with her profile facing the camera, the woman gave viewers another view of what her body naturally looks like when her bum isn't enhanced.
"Before, already seen it, don't need to look too long," she said before turning to the side and revealing the after in which her butt was altered.
"And then after, are you kidding me?"she said, showing disbelief at the change the boob tape created in her physique.
"Oh she got a** a** now," she said.
"So the secret ingredient here to the one-stop a** shop is boob tape."
Most read in Lifestyle
Moment Brit dad screams at Thai 'drug dealer who beat his son, 16, to death'
Martin Lewis issues warning to millions of Brits with savings or cash ISAs
Paul O'Grady's final gift revealed as fans break down in tears over star
Meghan Markle hires Kim Kardashian's elite ex-bodyguard to protect her
She said to cut a piece that goes from the outer seat of your garment all the way to underneath your crotch.
Part of the trick is that when you put it on you want to see the stretch.
"Put it right below where your butt cheek is and then pull it and stretch it up."
Concluding her video, she had a quick word for viewers.
She said: "Okay, so in anticipation of all the people that are going to be in my comments like who the hell would tape their ass, aside from the obvious, all I have to say is if its good enough for the Kardashians, it's good enough for me."

Source: Read Full Article