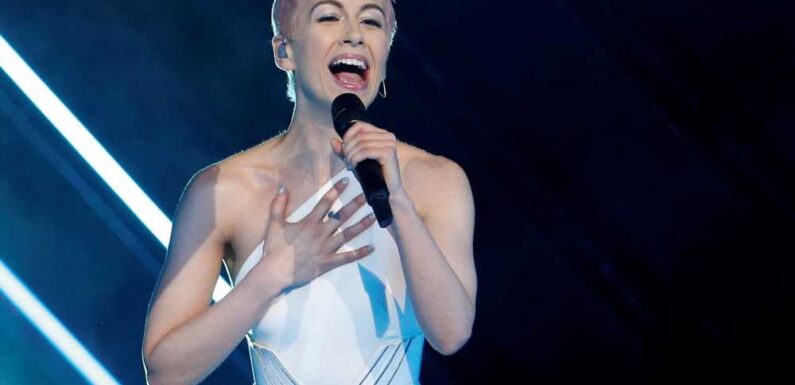 When you hear the word Eurovision, we bet there's an explosion of glitter, sequins and confetti cannons in your mind. 
But while there's a giant party happening on stage for the audience tuning in from around the globe, can the same be said for the acts backstage?
Only a handful of people can answer that question – step forward the UK's 2018 Eurovision entry SuRie, who is certainly no stranger to the world's biggest singing competition. 
That's because SuRie has proudly been there, done that and got the T-shirt not once, not twice, but a whopping three times. 
The 34-year-old singer-songwriter from Hertfordshire was selected to represent the United Kingdom with her song Storm. And she'd previously been a backing singer for Belgium acts Loic Nottet in 2015 and Blanche in 2017.
But her third occasion in Lisbon, Portugal, was definitely the most memorable – not least because an intruder stormed the stage during her rousing performance of her power ballad anthem (more on that later). 
Read More in Eurovision
Here's what we know about how much singers on Eurovision are paid
BBC presenter interviews Eurovision fan instead of 'huge star'
However, SuRie hasn't let the incident overshadow her achievement, as she opens up to Fabulous in an exclusive interview about the wacky world of Eurovision ahead of the UK hosting– likening it to a "hilarious, brilliant, zoo."
"It is difficult to describe the scale of it both on stage and backstage," SuRie – real name Susanna Cork – tells us. "Eurovision is like the musical Olympics on a scale that is only matched by the Super Bowl halftime show. Nothing's on that level."
"The backstage area in the Eurovision village, which is set up in the hosting country every year, is a huge collection of cubicles and dressing rooms. And it is a cacophony of noise, stress and nerves."
Continuing to describe the Eurovision bubble as "organised chaos", she says, "the dressing rooms are just open air cubicles – there's no roof to them. 
Most read in Fabulous
The 5 signs Holly & Phillip are desperate to hide their This Morning feud
Harry and Meghan kept at a 'distance' as Will's pal hints at coronation snub
Millie Radford fans joke she's following mum Sue after third baby news
Vet's warning to dog owners over 'deadly' room you must NEVER let your pet into
"So if you can imagine all these singers starting to warm up their voices all at the same time – it's like a hilarious, brilliant zoo," she laughs.
"The noises that come out of there are so funny – it's something to witness – so I would just pop my headphones in and listen to some white noise.
"Then, once I'd done my warm-up, I got together with my backing vocalists and sang through This Is Me from The Greatest Showman. I'm sure the other countries loathed it when we were screaming it, but hey!" 
And while many of the other country's acts let their hair down on the lead-up as they vied for the title of biggest party animal, SuRie – who trained at the Royal Academy of Music – says she was more likely to be found getting forty winks than hitting the town. 
"You're there through that whole week doing many, many rehearsals," she explains. "There's the Grand Final, but there's also a dress run, tech run, family show, jury show, so, by that point, time loses all meaning. 
"It's just a blur – if you're not in your hotel room grabbing a power nap, you are in rehearsal. And you're there from early doors so adrenaline takes you through."
It's like a hilarious, brilliant zoo
She continues, "There are some acts that can absolutely get on it – they party and hit the club after rehearsals, but still deliver the next day. There would be whole groups that would go out and were living their best lives through that whole experience.
"But I can't – I'm such a nerd. I do my job, need some water and quiet time and go back to my hotel." 
However, she said that there's a notable change in atmosphere behind-the-scenes on the big day, as the acts arrive at the crack of dawn for the performance they've all been counting down to.
She reveals, "there's a happy buzz, camaraderie, joy and celebration in the two weeks leading up, but then there's a change in the air.
"Of course, that's nerves, but there's also a slight hush as you know the show is on. It's not cold, but it's a laser beam focus and everyone buckles down. 
"You've been preparing for six to eight months and you've got three minutes on stage.
"I was number nine in the running order, which was nice because Terry Wogan would always raise a drink at number nine and say to pace yourself. So we had a nice moment where we all raised a glass to him – although I toasted with a h20." 
There are some acts that can absolutely get on it – they party and hit the club after rehearsals, but still deliver the next day
Yet SuRie's night then took a dramatic turn when her performance was interrupted by a stage invasion when a man ran on midway through and grabbed the microphone. 
"Obviously in the moment it was quite a whirlwind. It was a really unique experience – not just for me on stage but for absolutely everyone in the arena," she recalls. 
"It was pandemonium. I tried to keep my composure on stage, [but] when we got off stage, it was pretty wild. 
"The guy was being arrested and it was all happening right in front of Serbia, who were just about to go on stage. Then people with clipboards came down for security briefings."
"They offered us the chance to go again but I was so fired up that the adrenaline could not have been replicated a second time. So we left it at that, as wild as it was.
"The roar of electricity and love from the crowd, who just charged to another level, is what I take away from it. That's what I'll never forget – it still gives me goosebumps talking about it five years later." 
Since then, those same diehard Eurovision fans have been there every step of the way to support her blossoming career, and she says the competition has totally transformed her life. 
Now, she's excited to release her new album, Building a Woman, and head out on a tour, called Cover/ Me, this May.
FABULOUS BINGO: Get a £20 bonus & 30 free spins when you spend £10 today
"The dream still lives – I'm so fortunate to make my keep from music," the down-to-earth star says. "My new album comes out the day after the Grand Final and hopefully my acoustic, piano songs will help people with their Eurovision come down."
SuRie – who also writes music for theatre and is branching out as an actress with an exciting yet-to-be-announced role – says, "the best thing I can do is to prove that there is longevity and that it doesn't all stop at Eurovision. It sounds so cheesy, but I am living my dream so I hope it continues for as long as possible." 
SuRie has also kept in touch with her extended Eurovision family – and former competitors – and says their bond is for life after having been through the same whirlwind experience. 
"I've performed with Rasmussen from Denmark a few times since and Ari from Iceland has become a firm friend," SuRie, who is a Eurovision ambassador, reveals. "He's been round to my house, and I'm going to go to his. He's just become a dad and has been sending me pictures of his little boy. 
"You do really click with people and it's a lovely family to be a part of." 
I tried to keep my composure on stage, [but] when we got off stage, it was pretty wild
And the class of 2018 is very much looking forward to watching the show this weekend – while keeping their fingers firmly crossed that we don't hear those dreaded words "nil point."
"This time I can party and enjoy myself a bit more," SuRie says, before revealing she's already picked her partner in crime for the Eurovision afterparties – Rylan Clark, who is part of the wider BBC presenting line-up. 
Read More on The Sun
This Morning's Holly 'blindslided and upset' as Phil releases statement
I went to Turkey & got my lashes and nails done – it only cost me £14 in total
"Of all the people I've been lucky enough to meet, Rylan is my absolute favourite," she reveals. "He's the most amazing person at his job but he can also party and let loose. I love him to bits and you can be sure to have a good time whenever Rylan's around."
SuRie's new album Building A Woman is released on 14 May and her Cover / Me, the tour, starts in Southampton on 17 May with assorted dates and venues through to 15 June. Tickets and info at surie.me. Follow her on social media at @surieofficial

Source: Read Full Article