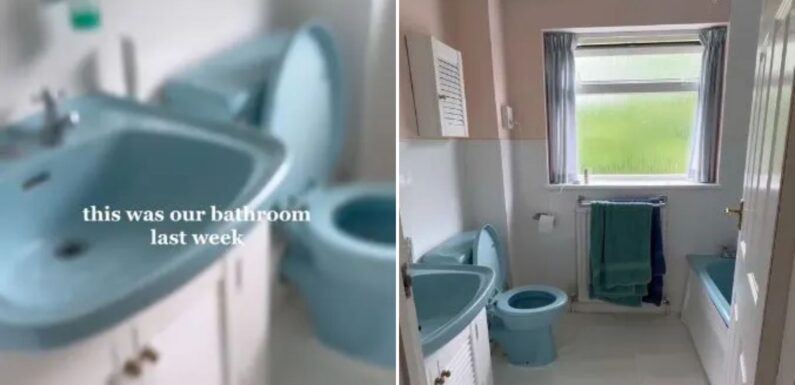 A DIY expert managed to transform her tired-looking bathroom for just £127.
In a series of short TikTok videos the thrifty woman revealed to her 17,800 followers just what she had done to give her bathroom a much-needed spruce up.
Laurie, who is known on social media as "La.Daws" started off her post by showing what her bathroom looked like before she got to work on it, adding that she had set herself a target of spending less than £100.
But she admitted she had actually gone slightly over that budget and spent £127.50.
She put the over-spend down to having to buy two extra packs of floor tiles and a new toilet roll holder.
In the before photo, her bathroom is, while not shabby or grotty, hardly anything special with blue colour for the fittings such as toilet, bath and sink with powder pink walls and baby blue coving, along with what she described as "poorly fitted vinyl flooring".
Read More on DIY
I added a gold rail to my kitchen wall with zero drilling thanks to a £7 Amazon buy
I live in a dome tent in the mountains – it helped me escape the rent trap
The footage then cuts to the finished transformation with the room now looking much lighter and appealing with white walls and new tiles on the floor.
Laurie said: "The little vase, pampas [grass] and jars, things like that, I already had in the kitchen cupboard – so no extra money spent there.
"I am so happy with how this turned out.
"It just feels like a lovely bright room to go into now."
Most read in Fabulous
Why Brit school dubbed 'Hippy Hogwarts' is loved by royals across the world
As Venus turns passion-positive, mates can make dream dates
Where Big Brother faves are now – from TOWIE fallout to OnlyFans
I met Becks in queue to see Queen's coffin – here's why he didn't jump to front
She added: "And thank you to everyone who has shown the blue bathroom suite some love.
"You guys helped me to make the absolute most of it."
In another video she explained that she had started off giving the bathroom a "really good clean" and took out anything removeable before prepping the walls by scraping away the peeling paint.
The next task was to tackle the floor and getting rid of the vinyl covering.
Laurie then got out her paint brushes and rollers and got to work.
She soon realised that it was going to need at least three coats of paint which took her around four hours to complete.
The following day she got to work early at 7am to get to grips with the floor tiles.
The video showing off the results of her labours has gained more than 9,700 likes and picked up nearly 200 comments.
Many people were suitably impressed.
One person wrote in the comments section: "What a change for so little! I love the blue bathroom suite. It's so retro but not tacky."
Another added: "Love it. Well done. It looks clean and fresh."
A third said: "What a difference, great job."
Another DIY expert has also showed how they dramatically transformed their bathroom without having to break the bank with a costly renovation.
While another DIY fan showed how he transformed his toilet in no time at all.
Read More on The Sun
Sneak peek at the new look WhatsApp coming soon with four essential new buttons
Rylan Clark shares health update on mum's condition in hospital
Elsewhere, one interior whizz revealed his easy hack which will make your bathroom look so much bigger.
Meanwhile, a DIY pro managed to make her bathroom look on-trend and only spent £15.

Source: Read Full Article