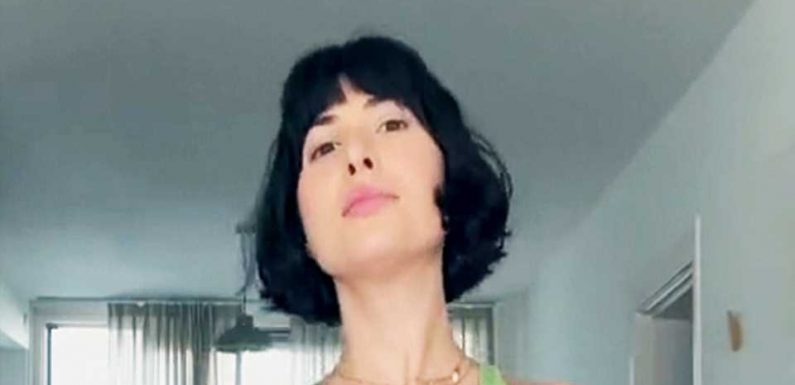 AN INFLUENCER has revealed her trick for going braless while having a big chest – and fans are loving it.
Estee often posts about her woes of having big boobs, but embraces it and chooses to go braless.
In her latest clip, she tried a new method to go braless: shirts made especially for those who have big chests.
She said: "Trying something new!
"Any woman should be able to go braless comfortably, but way too many shirts just don't consider bigger boobs."
Estee ordered a plethora of braless shirts made especially for those who have big boobs and the results were fantastic.
Her first option was a pastel green V-neck tank top, which Estee loved for the "shape and lift" it gave her chest.
She said: "My boobs feel secure, but they also look nice!
"One issue I do have is there is a little bit of a bulge at the side."
The athletic style of the shirt allows for full support of Estee's girls, though she did note it may be difficult to style for some occasions.
Most read in Lifestyle
AJ hints at Fury fight, brawl break out with Bellew after bout FINISHES
Chaos at end of Joshua v Franklin fight as boxers are separated by security
Body found in search for missing woman who 'went for 10min walk to get air'
Coronation Street star leaves soap after 12 years with last scene airing in July
Estee raved: "I think this is a great option for someone who values comfort and security!"
Her followers adored the vest, with many of them saying they have similar issues finding tops to wear with big chests.
One said: "Finally a creator who has my same body type!! I have the same problem with the girls lol."
A member of the no bra club claimed she found the perfect seamless crop top for women with big boobs.
Logan Hill (@loganraehill) on TikTok shared her amazing find with her viewers in a video.
Wearing a white wide-ripped long-sleeve top in a size six, Logan said: "If you have a larger chest and hate wearing bras I just got this top."
She mentioned that the top is from Lululemon.
"It literally has a built-in bra," Logan said.
The top does come with padding, but Logan took it out because she "hates" padding.
"It's seamless," she said. And "they have it in a bunch of different colors."
Logan gushed: "I just love this."
She said it's "the perfect crop top to wear with like jeans or anything."
One woman recently discovered how wonderful going braless is, thanks to an athletic top.
Some busty women complain about back pain and unwanted jiggle when they go bra-free – especially while working out.
So Kimmy Kakes (@kimmykakes_) was delighted after discovering a top that allowed her to finally ditch her bra while exercising.
She could not hold back her glee in her post.
"OK, so guys, oh my gosh, I'm so excited," she said breathlessly.
"Oh my gosh," she said excitedly, "I bought this exercise top from Gymshark."
She twisted and turned for the camera, appearing both thrilled and in disbelief that she finally found something that allowed her to be rid of her bra.
Read More on The Sun
Highest paying part time jobs revealed – and you could earn up to £800 a day
Woman reveals how to take an extra bag onto Ryanair flights without paying for it
"I could absolutely wear this, like a normal top, braless," she said.
"I have no other bra, this is just the top, lifting."

Source: Read Full Article