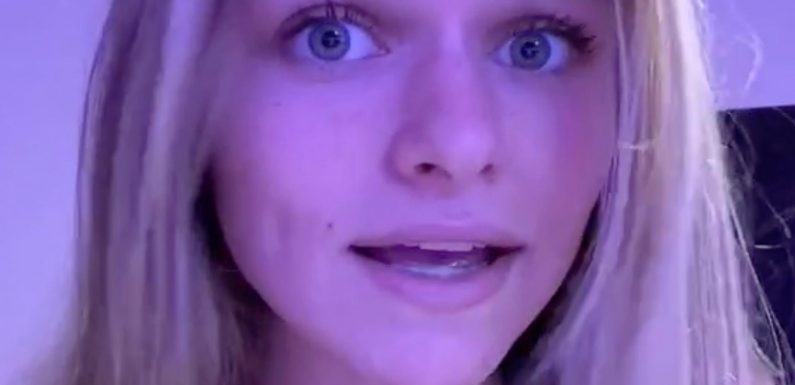 ANYONE with a bigger chest knows it's hard to hide it when you're well-endowed.
One influencer just can't seem to stop the trolling comments about her boobs – though some accuse her of farming the comments to gain a following.
The content creator Megan Nutt (@megnutt02) posted a video to address viewers' comments on her body.
According to 20-year-old Nutt, other TikTok users can't help themselves from making comments.
In the video's caption, she replicated the type of comment she often hears, though she did take a mocking tone.
Between a handful of evocative emoji, Nutt typed, "u HAvE bIG BO0bs."
Poking fun at her followers' melodrama, she included symbols like a broken heart, a sweaty face, splashing water, and a face streaming tears.
Turning to show her chest, Nutt feigned annoyance.
"I have mommy milkers," she wrote in the caption, using a slang term for large breasts. "What am I supposed to do?"
In the video description, she even included a faux apology. "My bad," she wrote, coupled with a sweating face emoji – and a glass of milk.
Most read in Lifestyle
Reality TV legend will replace David Walliams as judge on BGT
Woman died when car plunged into icy lake after she was 'raped by colleague'
Mum and kid killed 'on way to nursery' after TT hits them & driver arrested
Love Island's Gemma Owen is dating Grime star after split with Luca Bish
Comments were mixed. Some people understood Nutt's point right away and were quick to support her.
"I don't understand why people complain," a sympathetic viewer wrote.
"People get mad when she shows off a little, but she can't really control it," another reasoned.
One exasperated commenter got sarcastic as she stood up for Nutt.
"Seriously what do you want her to do," the fan demanded. "Put them in her pocket?"
Others chastised Nutt in the comments of her very own video, saying her chest was "all she posted about."
"Don't expose them so much if you respect them," one person scolded her.
Another explained their problem with Nutt's most "obvious" asset.
"She cries about it, then proceeds to post it," the disgruntled person said.
Read More on The Sun
I'm a speed camera officer… here are three myths drivers always get wrong
You're charging your iPhone wrong – how to make it charge much faster
And a third commenter attributed all of Nutt's success as an influencer to her physical appearance.
"Well, that's your only talent," the pithy person wrote.
Source: Read Full Article