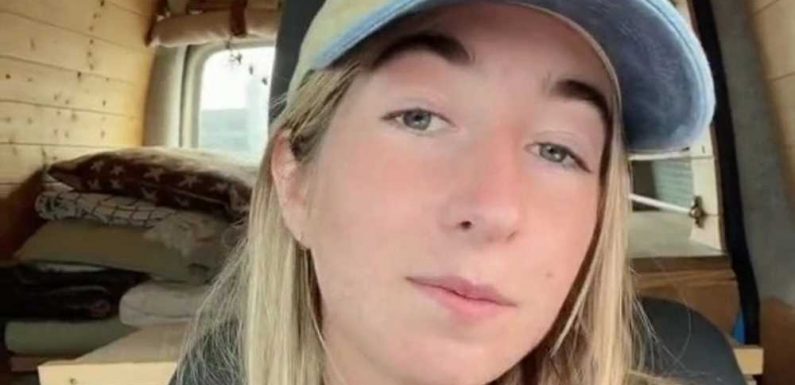 A WOMAN who always dreamed of living in a van has shared how it hasn't always lived up to her expectations. 
Alice decided to up sticks and leave her home and head off on an adventure around Europe in her self-converted van, which she's called Remi.
And while she's had some great times and made some lasting memories, Alice is the first to admit that it hasn't always been smooth-sailing – particularly in recent weeks as she was hit by a string of disasters. 
Alice, who has been sharing stories from her life inside the van via her TikTok profile @spindriftvan ever since she left her home in the UK, opened up about the ups and downs she's faced in a new social media video. 
She explained to her followers that she'd had a tough time recently, including a break-in, which has forced her to put a pause on her trip for a while. 
Speaking from inside the van as she started her journey back home to the UK, a downbeat Alice said: "Right now, I am in Calais. I'm about to get the Euro tunnel back home."
Read More in Van Life
I'm a single mum & live in a van with my kid – we shower in the kitchen sink
I live in a van & I'm always asked how I use the loo – not everyone approves
Alice continued to reveal how she was forced to drive for over 1000 km without a window when it was damaged in the break-in. 
She explained: "I'm sitting in a blanket while I wait to get on because I have no window.
"Because if you've seen my videos, you'll know that this trip has been full of really bad luck."
Alice looked emotional as she went on to reel off the countless problems she'd faced on the way.
Most read in Fabulous
Woman compared to a surfboard due to her flat chest
People are only just realising what Tesco stands for & it's blowing their minds
I'm a midwife – the 6 types of dad we see during labour and the guy we hate
I did a weekly shop in M&S…I couldn't believe how cheap it is, it's the new Aldi
These included failed car parts that led to the car breaking down, as well as the robbery itself.
Alice lifted the lid, as she said: "One of my injectors failed and the refurbished ones that I had fitted were also faulty.
"Free of charge I got them all replaced with brand new injectors, which finally worked. And then that night, my van got broken into whilst I was inside it."
Speaking about the scary ordeal, Alice continued: "My bag got stolen with my passport and everything.
"And then because there was nothing of any monetary value in there, the thief dumped the bag and the police found it later on."
Alice then added that that seemed to be her "only good luck for the trip".
After the break-in, Alice felt she had no choice but to head home and get her van repaired before she hit the road again.
The social media user revealed: "I'm on my way home to get my window repaired and try not to have any more disasters for a while.
"I'll adventure around the UK and I still really want to go to Portugal in the van, but I need to get these repairs done and I need to get them done at an affordable rate." 
After Alice shared her story, her followers were quick to rally around her and send her love.
One commented: "It's been an experience for you, next one will be better!"
Read More on The Sun
'World's loneliest orca' set to 'return home' after 50 years in captivity
Mum reveals people say her 'lingerie' skirt is inappropriate for the school run
A second said: "Hi Alice. Love your videos. You had some expensive setbacks… keep smiling." 
While another wrote: "Thank you for sharing the honest side of this type of travel and being transparent about the fact that although it's amazing, it can have its downs."

Source: Read Full Article