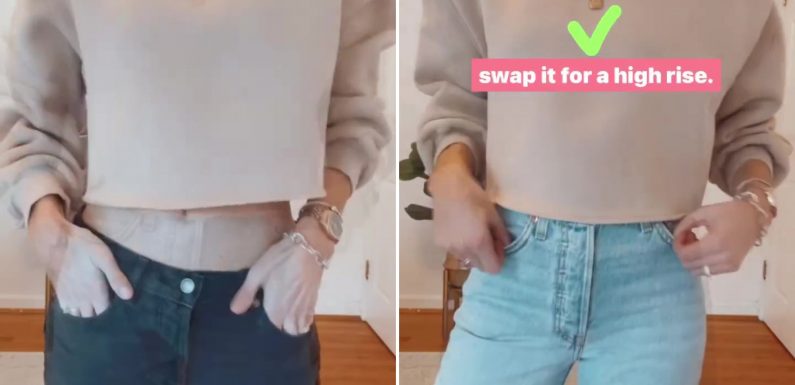 TOP crops are everywhere but what are you supposed to wear if you don't like showing of your tummy?
One fashion whizz found a way to get the best of both worlds if you can't stand having it all on show but still want to keep up with trends.
The key is to minimise the space in between the space between top of your trousers and the end of the top as much as possible.
That's why the fashionista recommended avoiding low or even mid-rise jeans, since they'll make a crop top look even shorter and draw attention to the lower part of your stomach.
Instead, high-rise jeans are a great option but still don't solve the problem if you've got a long torso.
Try grabbing a "similar coloured" tank top to pair with the crop top so it looks like one cohesive look and will hide your stomach.
READ MORE ON FASHION
Fashion fans sprint to M&S for a new dupe – it's perfect for Spring
I'm a fashion pro – I go braless in backless tops, my tip provides support
You can also switch up what you'd usually pair a crop top with so there's no stomach showing.
The fashion whizz tried on a cropped jumper with a dress for a cosy look that's bang on trend but won't draw attention to area you want to cover.
In general, when shopping for crop tops some are longer than others, but you can also size up if you want to show off less skin if you find one you love.
After sharing her recommendations on her YouTube account @sistersguidetostyle fellow fashion fans raved about the simple tricks and couldn't wait to try them out.
Most read in Fabulous
Camilla to be known as the Queen from the Coronation onwards
Millie Radford accuses mum-of-22 Sue of 'making money' out of her family
I live on my driveway so I can rent out my house – I rake in £7.6k a month
I went to Primark and spotted the tackiest T-shirt I've ever seen
"The crop top over a dress blew my mind! I didn't even think of that," one commented.
"This is so helpful because I hate finding stuff to wear to work and it's all cropped," another wrote.
And a third said: "I always use the tank top hack and it works amazing."
Meanwhile, other style lovers shared some of the ways they wear crop tops without having their stomach on show.
"I have a black dress with spaghetti straps that I love, but I always wear a crop shirt or jumper over it, it's especially comfortable for travel," one said.
Another agreed: "I often wear a crop top over tight dresses to downplay the figure hugging silhouette."

Source: Read Full Article