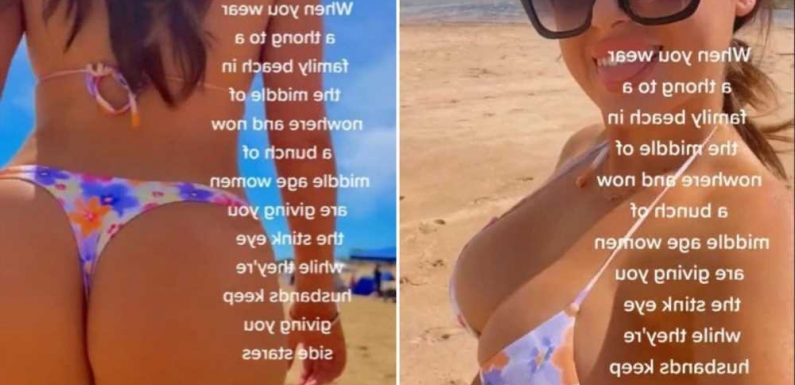 SHE'S got a body to die for, and loves showing it off in skimpy bikinis when she hits the beach.
But doing so earns her glares from women and stares from men, Jessy explained in a video on her TikTok page.
"When you wear a thong to a family beach in the middle of nowhere and now a bunch of middle-aged women are giving you the stink eye while their husbands keep giving you side stares," she wrote over a clip of herself walking along the sands.
"Suddenly all the husbands wanna take pictures of the beautiful 'view' and water," one person commented on the video.
"Phone coming out for a few seconds…preserving memories," another added.
"As a husband…I appreciate all that you do," a third joked.
Read more Body Shape stories
I had to do walk of shame as my big boobs wouldn't fit on rollercoaster
I'm curvy with big boobs & tested Primark's Valentine's Day underwear selection
"Where is this beach. I will come there and give these women a piece of my mind!!" someone else commented.
While others were less complimentary about Jessy's patterned two-piece.
"Classy, lol," one person wrote.
"Nobody cares what you wear… quit making something out of nothing," another added.
Most read in Fabulous
Mum-of-13 who has 8 different baby daddies says people always judge her
We gave our baby a Roman numeral name – people say that's the least cringe part
I had to tell dad about romp with Harry after he wrote about it… it was awkward
I'm a dog behaviourist – here are the best nine breeds for cuddles
"sad when this is all u can contribute to society," a third commented.
"People are looking at u bc you're shallow not out of jealousy."
As another person wrote: "You're beautiful but why do you want to wear something that can come across as hyper sexual, at a FAMILY beach w/kids.
"This isn't the flex you think."
Source: Read Full Article